Terry Fox grant for ITQB researcher
Project aims to understand a molecular mechanism in prostate cancer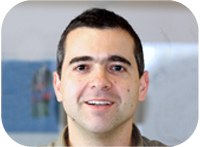 Oeiras, 03.03.2011
ITQB Researcher, Cláudio Gomes is one of the three Terry Fox Grants 2011 awardees for cancer research. The grant of 15.000 euros will be used to investigate if the protein deposits observed in prostate cancer represent an anticancer mechanism of the cells. The award is a joint initiative from the Embassy of Canada in Portugal and the Núcleo Sul da Liga Portuguesa contra o Cancro. The award ceremony takes place today at Instituto Português de Oncologia in Lisbon.
While the cause of prostate cancer is unknown, the high levels of S100 protein are known to contribute to cell proliferation and metastasis induction. But S100 protein is found in an unexpected form inside the cells – amyloid aggregates, similar to those observed in neurodegenerative diseases such as Alzheimer disease. Just as it has been suggested for these diseases, Cláudio Gomes intends to test the hypothesis that, rather than the problem, these aggregates are part of the solution.
As a first step, researchers will determine in vitro, the necessary conditions for S100 amyloid formation. Then, the effect of isolated proteins, aggregates and all intermediary forms on cell viability and proliferation will be tested.
Cláudio Gomes heads the Lab of Protein Biochemistry Folding and Stability at ITQB.
The Terry Fox Grants are financed through the organization of Portugal's longest-running awareness campaign, the Terry Fox Race for Cancer. Otherwise known as 'The Race of Hope', the Terry Fox Race for Cancer originated in Canada and is now held in more than 30 countries around the world as a tribute to the man who started it. In Portugal, the Terry Fox race is a joint inititive of the Embassy of Canada and the Núcleo Sul da Liga Portuguesa contra o Cancro.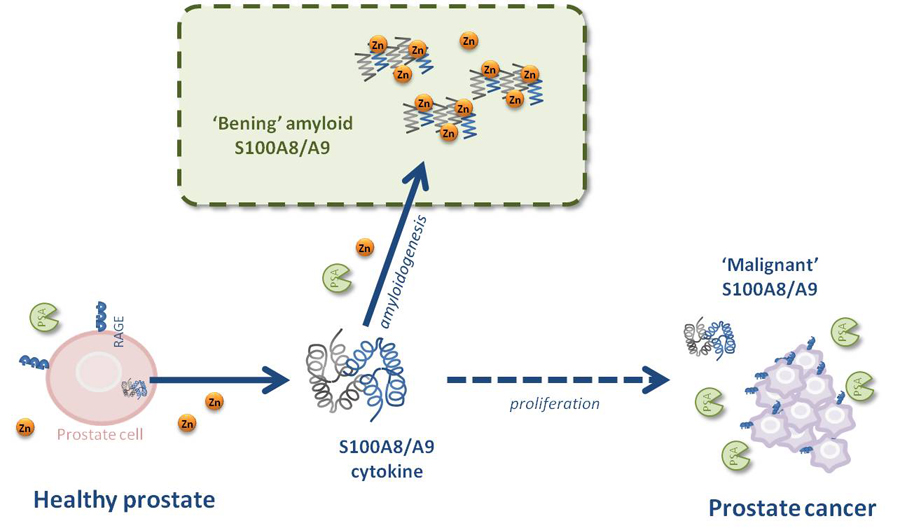 Scheme depicting the hypothesis put forward in the research proposal In the prostate, the S100A8/A9 cytokine is involved in establishing RAGE-dependent chronic inflammation which favors tumorigenesis. On the other hand, the high zinc concentrations in the prostate trigger S100A8/A9 amyloid formation, a process possibly faclitated by endogenous proteases (e.g. PSA). We hypothesize that the formation of S100A8/A9 amyloid may be a protective mechanism scavenging the pro-proliferative cytokine in a non-carcinogenic form.