Participate in the first COLife Hackathon!
University students will team up to find solutions to problems related to world feeding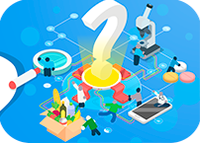 Together with COLife, ITQB NOVA is organizing a Hackathon under the theme "Future Food Challenge". On March 27th, from 9am to 9pm, at Pavilhão do Conhecimento, bachelor and master students will team up to find solutions for problems associated with world feeding. Registrations are open until March 20th.
Students will compete in teams of six participants across a wide variety of fields - medicine, biomedicine, biology, nutrition, chemistry, agronomy, bioinformatics, law, biomedical engineering, communication, informatics, among others. On the day of the event, teams will be given a specific challenge under the theme and for which they have to develop a solution based on scientific evidence and processes within 12 hours. They will have the help of six COLife researchers who will act as mentors throughout the competition and discuss ideas and solutions with the teams. The projects will be presented at the end of the challenge to a jury of talented researchers.
The winning team will receive a monetary prize of 750€, the chance of doing an internship in COLife institutions for each member of the team plus visits to the other institutions, and access cards to any Ciência Viva science centre. Second and third placed teams will be awarded visits to the COLife institutions and access cards to Pavilhão do Conhecimento.
This hackathon is organized by COLife in partnership with Ciência Viva, and with the support of the Oeiras Municipality and Portugal Bugs.
Find out more here.