The most recent book from Cell Press Reviews
Stem Cells to Model and Treat Disease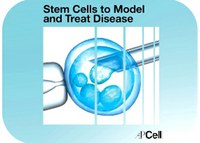 Oeiras, 07.04.2014
The most recent book from Cell Press Reviews: Stem Cells to Model and Treat Disease includes a chapter co-authored by Margarida Serra, Catarina Brito, Cláudia Correia and Paula M. Alves from the Animal Cell Technology Unit (ACTU - ITQB and iBET).
This book aims to inform, inspire, and connect stem cell researchers and clinicians with timely, comprehensive reviews written by leaders in the field and curated by Cell Press editors. The publication offers a broad view of some of the most compelling topics in stem cell research.
Besides the contribution from ACTU researchers, this book also includes a chapter by Shinya Yamanaka, recipient of the 2012 Nobel Prize for Physiology or Medicine for his work on the reprogramming of mature cells to pluripotency.
"We are delighted to present these high-impact, comprehensive reviews in book format for the first time," said Emilie Marcus, CEO of Cell Press and Editor of _Cell._ "Our editorial team carefully selected review articles that not only provide an overview of recent advances in these fields, but also look to what is coming next in these areas."
For Paula Alves, Director of the ACTU and CEO of iBET, "It is an honor for our work to be recognized and published in a book alongside the work of Shinya and other authors who are considered the leaders in this area of research. This is part of what motivates us to push even further."