The yin and yang of innate immunity by Philippe Sansonetti
Last Frontier Leaders seminar on April 30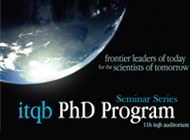 On Friday, April 30, the last Frontier Leaders seminar of this series will host another ERC Advanced Grant recipient: Philippe Sansonetti from the Institut Pasteur will discuss "Pathogens and commensals at mucosal surfaces: the Yin and yang of innate immunity."
The European Research Council Advanced Grants allow exceptional established research leaders in any field of science, engineering and scholarship to pursue frontier research of their choice. Philipe Sansonetti was awarded with the European Research Council Advanced Grant (€2M) in 2008 to study the homeostasis and rupture of the gut epithelium in the presence of commensals and pathogens.
Philippe Sansonetti is one of Europe's leading microbiologists with about 300 publications in peer-reviewed journals and six patents. His achievements in science have been recognised by numerous awards, including the Louis Jeantet Prize for medicine; Robert Koch Prize (Germany); André Lwoff Medal by the Federation of European Microbiological Societies; and, in 2009, the GlaxoSmithKline International Member of the Year Award, American Society for Microbiology. Included in Philippe Sansonetti's long list of honours are his appointments as Chevalier de la Légion de l'honneur and Officier de l'Ordre National du Mérite. He is an elected member of the French Academy of Sciences, the Deutsche Akademie der Natursforscher Leopoldina, EMBO, and the American Association for the Advancement of Science. He is also a Howard Hughes Medical Institute Scholar.
Philippe Sansonetti's research focusses on dysentery-causing Shigella and on the molecular and cellular basis of Shigella's ability to rupture, invade and cause inflammatory destruction of the intestinal lining. He also is analysing the mechanisms of immunity against Shigella, hoping to use his findings to develop vaccines.
This is the last of this year's seminars of the series Fontiers Leaders of Today for the Scientists of Tomorrow, a program specially designed to integrate the ITQB PhD Program, which brought to Portugal eight renowned researchers in biology and chemistry, selected among the recipients of ERC Advanced Grants. This seminar series was supported by Fundação Calouste Gulbenkian.
Frontiers Leaders of Today for the Scientists of Tomorrow
ITQB Auditorium
30 April, 10h30

Philippe Sansonetti, Institut Pasteur, FR
Pathogens and commensals at mucosal surfaces: the Yin and yang of innate immunity