Think globally, plant locally
Portuguese-Spanish Congress of Plant Physiology starts today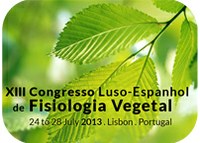 Oeiras, 24.07.2013
Under the motto "Think globally, plant locally", 400 plant scientists meet this week in Lisbon for the XIII Portuguese-Spanish Congress of Plant Physiology. The congress is organized by the Portuguese Society of Plant Physiology, headed by ITQB Researcher, Margarida Oliveira.
For four days, from Wednesday 24 to Sunday 27 of July, researchers will discuss how science can help face the challenges of today's agriculture, namely the effects of climate change, which directly or indirectly (by for example redistributing plant diseases and plagues) affect a large economic sector dependent on plants. The meeting also focuses on topics such as biotechnology, plants for food and animal feed, plant as pharmaceuticals, applied physiology, biodiversity, and education. Six plenary conferences by internationally renowned plant scientists, including Manuela Chaves from ITQB, complement the oral and poster presentations by participants.
The Congress of Plant Physiology will also be the venue for the award ceremony of the creativity competition organized by ITQB, Sociedade Portuguesa de Fisiologia Vegetal and Associação Viver a Ciência, for the International Fascination Plant Day. The awarded pieces - drawings, photos and short stories – have been earlier displayed at an exhibition held in Oeiras Parque, last May. The awardees will now receive their prizes and certificates at the Faculdade de Ciências de Lisboa, where the congress is being held, just before the Welcome Port Wine.