Grain legume-associated fungi family relationships
Best poster awarded at international conference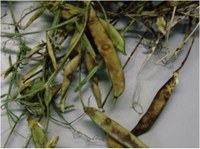 Infected legume plant
Oeiras, 04.05.10
Nuno Felipe Almeida, PhD student from the Plant Cell Biotechnology Lab at ITQB, received the Best Poster Award at the 5th International Food Legume Research Conference (IFLRC) & 7th European Conference on Grain Legumes (AEP) that took place last week in Antalya, Turkey. The work describes the phylogenetic analysis of the fungi Ascochyta isolated from Lathyrus plants and their comparison with fungi infecting closely related legumes.

Poster Abstract

Where do Ascochyta isolates infecting Lathyrus species stand on a grain legume-associated Ascochyta phylogenetic study?
N.F. Almeida, N. Rispail; M.C. Vaz Patto, D. Rubiales
Instituto de Tecnologia Química e Biológica, Apt.127, 2781-901 Oeiras, Portugal.
Institute for Sustainable Agriculture, CSIC, Apdo. 4084, E-14080 Córdoba, Spain.
Several Ascochyta fungi isolates collected from different Lathyrus species were analyzed on a phylogenetic study together with other Ascochyta isolates infecting close related legumes. The analysis was performed using DNA sequence information from the internal transcribed spacer region (ITS) amplified from 10 isolates of Ascochyta infecting Lathyrus species and from 4 Ascochyta isolates infecting Vicia species. The obtained data was compared with the ITS region sequence information from other Ascochyta isolates having grain legumes as host, available from the GenBank. Host specificity was also tested using different lines of L. sativus, L. cicera, V. faba, V. sativa and Cicer arietinum. Despite the high host specificity of the different isolates tested, very little polymorphism was detected within the ITS sequences analyzed. All the studied Lathyrus-infecting Ascochyta isolates had nearly identical ITS sequences and clustered together. This analysis also revealed that the isolates from Pisum sativum, the most closely Lathyrus grain legume studied, were not the most similar to isolates collected from Lathyrus at the ITS level. Taken together, this phylogenetic analysis based on ITS polymorphism suggested a low level of genetic evolution of legume-infecting Ascochyta isolates partly dependent of the host that deserves to be further analyzed.