Turning microbes into factories
Engineering bacteria for producing bulk chemicals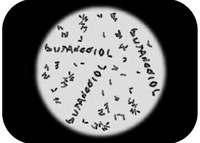 Oeiras, 11.11.2015
Researchers from the Helena Santos Lab and collaborators were able to develop a non-pathogenic bacterium into an efficient cell factory for the production of 2,3-butanediol, a valuable bulk chemical used in the production of plasticizers and fumigants, as an antifreeze agent, as fuel and octane booster, among other applications. The metabolic engineering strategy is described in the journal Microbial Cell Factories.
With an world annual market for 2,3- butanediol derivatives estimated at around 43 billion dollars, the production of 2,3-butanediol by microbial fermentation of sugars (derived from renewable biomass) is an attractive alternative to petroleum-based chemistry. But most natural producers of this important chemical block are pathogenic so, in this work researchers resorted to a Generally Considered As Safe (GRAS) microorganism, Corynebacterium glutamicum, which is widely known for its high performance in industrial settings.
The natural production of 2,3-butanediol in C. glutamicum is quite low. So researchers assembled a gene cluster, encoding the 2,3-butanediol biosynthetic pathway of another bacterium, Lactococcus lactis, and expressed it in specific strains of C. glutamicum, tailored to minimize pyruvate-consuming reactions, i.e., to prevent carbon loss in other fermentation products (lactic, acetic and succinic acids). The result was a new C. glutamicum strain able to produce 2,3-butanediol with a high yield.
Besides establishing an efficient strategy for the production of 2,3-butanediol, researchers propose that the engineered strains can be used as a GRAS-platform for production of acetoin, another valuable chemical widespread in the food industry as flavor enhancer.
Original article
Microbial Cell Factories 2015, 14:171 doi:10.1186/s12934-015-0362-x
Engineering Corynebacterium glutamicum for the production of 2,3‑butanediol
Dušica Radoš1, Ana Lúcia Carvalho1,6, Stefan Wieschalka2,7, Ana Rute Neves1,5, Bastian Blombach3, Bernhard J. Eikmanns2 and Helena Santos1,4
1 - ITQB
2 - Institute of Microbiology and Biotechnology, University of Ulm (Germany)
3 - Institute for Biochemical Engineering, University of Stuttgart (Germany)
4 - Lisbon Academy of Sciences (Portugal)
5 - CED-Discovery, Chr Hansen A/S (Denmark)
6 - Gut Health and Food Safety Programme, Institute of Food Research, Norwich Research Park (UK)
7 - Rentschler Biotechnologie GmbH (Germany)