When in culture, do as the liver does
Researchers develop in vitro model to test new drugs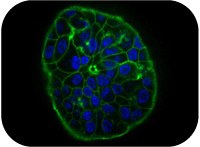 Researchers from the Animal Cell Technology Unit at ITQB/iBET, in collaboration with the pharmaceutical company Cellartis, have developed an experimental in vitro model that mimics the liver and can be used to replace animal experimentation in drug trials. The work is published in the April edition of Hepatology and is highlighted on the journal´s cover.
Replace, reduce, reuse are the words of the moment for animal experimentation. In vitro cell cultures appear as an obvious replacing alternative but the difficulty is that such systems usually do not reflect the complexity of living organs. Resorting to specific bioreactors, researchers were able to maintain a culture of human liver cells keeping the liver-specific activity and architecture. This was the first time that it was possible to recreate a functional bile capillaries network, a very important feature for the liver's secretory activity.
Before any clinical trials, pharmaceutical companies are already required, by the Food and Drug Administration and the European Medicines Agency, to use human liver cell cultures for testing new drugs. The model now developed increases the reliability of such tests. In addition, this system can be a tool for studying liver diseases or even as a step towards the development of bio-artificial livers for sustaining a patient's liver function until recovery or transplant, particularly in cases of acute liver failure.
Researchers believe that the method now developed for the liver may yet be applied to other organs for which only poor in vitro models are available. In association with pharmaceutical companies, the Animal Cell Technology Unit works to develop an in vitro brain model and a model for solid cancers.

Original Article
Hepatology (2012), 55: 1227–1236. doi: 10.1002/hep.24760
Human liver cell spheroids in extended perfusion bioreactor culture for repeated-dose drug testing
Rui M. Tostões, Sofia B. Leite, Margarida Serra, Janne Jensen, Petter Björquist, Manuel J. T. Carrondo, Catarina Brito, Paula M. Alves