Wilson Antunes awarded by the Ministry of National Defence
The ITQB NOVA PhD Student, who holds the military patent of Major, was honored for his actions in the fight of the Armed Forces against the COVID-19 pandemic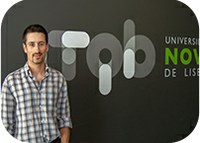 ITQB NOVA PhD student Wilson Antunes was awarded by the Portuguese Minister of Defence with the National Defence Medal. Major Wilson Antunes, who developed the Army´s Decontamination Chamber, was one of the 40 military distinguished for the Armed Forces efforts in the fight against the COVID-19 pandemic.
The prototype of a portable Decontamination Chamber to disinfect masks was developed at the Military Academy Research Centre to allow the decontamination and reuse of masks. With dry decontamination, the integrity of the mask is maintained, allowing them to be reused in complete safety. This can contribute to reduce the ecological footprint in the fight against the COVID-19 pandemic.
Wilson Antunes is a PhD student in the Microbial Development Lab. He is researching the structure and role of the spores of the Clostridium difficile, with his advisors Adriano Henriques and Mónica Serrano. He is also involved in the RACED (Risk Assessment for CB Exposure after Decontamination) project from the European Defence Agency. The RACED project intended to understand how effective are the decontamination methodologies currently employed by the different military forces of the different European armies.
The National Defence medals distinguished all types of operations developed by the several branches of the Armed Forces, from decontamination to transportation, food, field hospitals, and school awareness campaigns.
In the news: