Women in Science at the forefront of the fight against COVID-19
On 11 February the online community gathered to celebrate International Day of Women and Girls in Science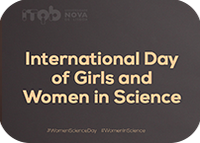 The International Day of Women and Girls in Science aims at raising awareness of the issue of equal opportunity in STEM, celebrating women's excellence in science, and reminding society that science and gender equality must advance hand-in-hand.
At ITQB NOVA, 63% of our Group Leaders are female, as are most of the PhD students and PostDocs in our research community. This representation, as well as in the technical and administrative staff at ITQB NOVA, are motives for celebration and we did so by joining this initiative and demonstrating the crucial role of women researchers in different stages of the fight against COVID-19.

A spirit of collaboration is what is getting us through and making it possible to ensure that the motto 'science will move us forward' can take place and become a reality. This community would not be the same without the contribution of many women, represented here by some of the ones currently at the forefront of the fight against the pandemic: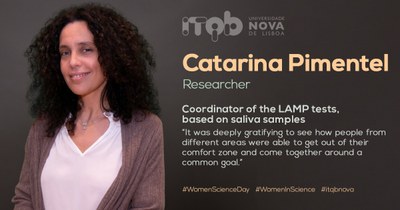 Catarina Pimentel is implementing a new test for COVID-19 using saliva, in collaboration with the Laboratory of Bromatology and Biological Defense and the Armed Forces Hospital. The test uses LAMP (isothermal amplification method) technology to quickly detect the SARS-CoV-2 virus, through a color change visible to the naked eye.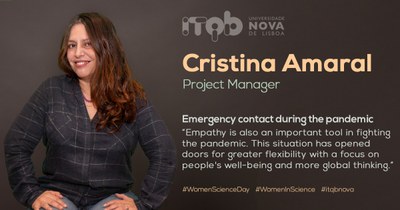 Cristina Amaral has been available for whoever needs her, as the emergency contact for the ITQB NOVA community. If anyone needs personal assistance she is the contact person, by email or phone, being the face of the institutional concern with general wellbeing.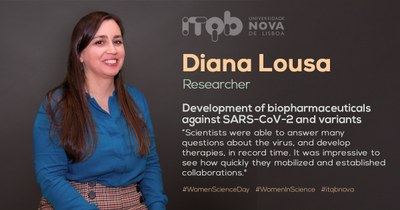 Since 2018 Diana Lousa has been leading a project to understand how different viruses manage to get inside our cells, using as a "key" the proteins they have on their surface. In early 2020, she embraced the challenge of trying to understand how SARS-CoV-2 enters our cells and to design therapies that would allow its inactivation.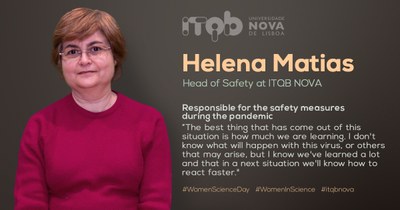 Helena Matias has been coordinating and implementing safety measures for Covid-19 at ITQB NOVA. She has had a leading role in making sure research can take place with all the security and that everyone feels safe and prepared for every scenario.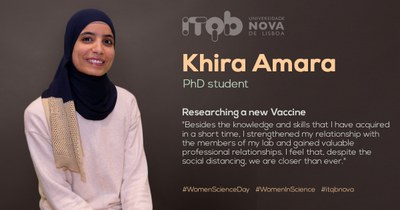 Khira is a PhD student at the "Microbial Development" Lab at ITQB NOVA, headed by Prof. Adriano Henriques. In collaboration with other research institutes, she is helping to develop a SARS-CoV 2 vaccine.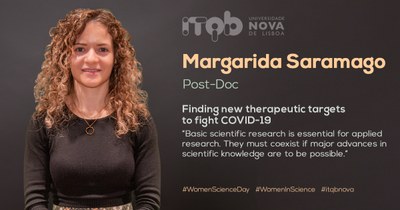 Margarida is interested in RNA metabolism since her PhD with Prof. Cecília Arraiano, since her PhD with Prof. Cecília Arraiano, through the study of bacterial RNA-degrading enzymes (RNases) and regulatory small non-coding RNAs (sRNAs). She is an example of how important it is for scientists to explore questions before they become a problem and how that allows them to be more prepared when a crisis arises.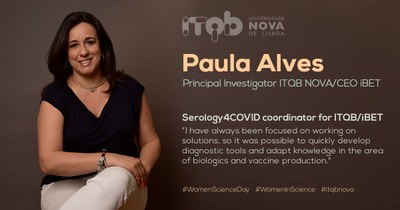 Paula Alves has been developing her research coupling the development of therapeutic and clinical solutions to the creation of value for the economy in the health area. This has proven to be a critical perspective to rapidly achieve solutions as the person responsible for the participation of ITQB NOVA/iBET - Instituto de Biologia Experimental e Tecnológica, in the Serology4COVID project.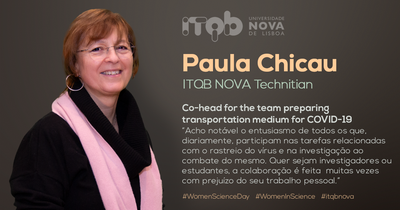 When it was time to take action in the fight against the pandemic, Paula Chicau gladfully organized the preparation and distribution of the inactivation media for SARS-CoV-2 tests, due to her background in chemistry and large laboratory experience.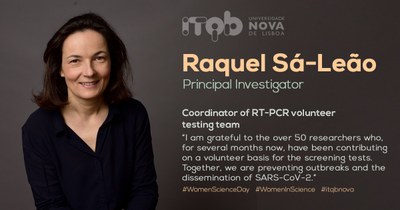 Raquel Sá-Leão, Principal Investigator at the Molecular Microbiology of Human Pathogens Lab, leads a team of dozens of volunteers, students, and researchers at ITQB NOVA, who organized to perform the COVID-19 diagnosis RT-PCR tests, in collaboration with the Municipality of Oeiras and the Agrupamento de Centros de Saúde (ACES) Lisboa Ocidental e Oeiras (ACES LOO).