Yet a new role for multirole proteins
RuvBL1 and RuvBL2 involved in protein disaggregation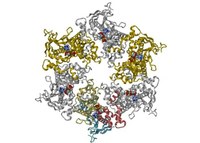 Oeiras, 08.09.2015
Researchers from the Industry and Medicine Applied Crystallography Lab (ITQB) and the Structural Biology for Drug Discovery Unit (iBET) collaborated with an international team led by Michael Y. Sherman (Boston University School of Medicine) in the discovery of a new role for proteins RuvBL1 and RuvBL2, in protein disaggregation. The work is now published in the EMBO Journal, the flagship publication of the European Molecular Biology Organization.
RuvBL1 (also known as Pontin) and RuvBL2 (also known as Reptin) are two related ATPases (AAA+ family) known to participate in the regulation of cellular energetic metabolism, transcription, chromatin remodeling, and the DNA damage response. Also, in the last decade, a link between these proteins and cancer was established. But many details of their action remain unanswered and the scientific community, including at ITQB and iBET, displays a growing interest in these ubiquitously expressed and highly conserved eukaryotic proteins.
While looking at proteins involved in the aggresome, an organelle that recruits aggregated proteins for storage and degradation, Sherman and collaborators revealed yet another role for RuvBL1 and RuvBL2. Depletion of these two proteins suppressed aggresome formation and caused buildup of cytoplasmic aggregates in mammalian cells in culture; a similar behavior was observed in yeast. In contrast, overproduction of RuvBL1 and RuvBL2 enhanced cell resistance to proteotoxic stress, independently of chaperone Hsp104. Also, the ATPase activity of the RuvBL proteins was stimulated by polypeptides with unfolded structures and amyloid fibrils. The body of experimental data indicates that RuvBL1/RuvBL2 complexes serve as chaperones in protein disaggregation.
Original article
The EMBO Journal (2015) OI: 10.15252/embj.201591245
RuvbL1 and RuvbL2 enhance aggresome formation and disaggregate amyloid fibrils
Nava Zaarur1, Xiaobin Xu2, Patrick Lestienne3, Anatoli B Meriin1, Mark McComb2,Catherine E Costello1,2, Gary P Newnam4, Rakhee Ganti4, Nina V Romanova5, Maruda Shanmugasundaram6, Sara TN Silva7, Tiago M Bandeiras8, Pedro M Matias7,8, Kirill S Lobachev4, Igor K Lednev6, Yury O Chernoff4,5, & Michael Y Sherman1
1 - Boston University School of Medicine, USA
2 - Boston University School of Medicine, USA
3 - University of Bordeaux Segalen, France
4 - Georgia Institute of Technology, USA
5 - St. Petersburg State University, Russia
6 - University at Albany, USA
7 - ITQB
8 - iBET