2nd General meeting Green-it
Researchers organize annual meeting of research unit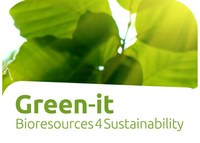 Oeiras, 7.07.2016
The 2nd Annual Meeting of the Bioresources for Sustainability Unit (Green-it) will take place today and tomorrow, at ITQB NOVA.
Green-it is a Fundação para a Ciência e a Tecnologia funded research unit, composed by laboratories within ITQB NOVA, Instituto de Biologia Experimental e Tecnológica iBET and Instituto Gulbenkian de Ciência IGC. This multidisciplinary team collaborate to explore biological resources, using chemical and biological strategies, and address key societal challenges in agriculture, forestry and energy, ensuring environmental protection and supporting a bio-based economy.
The annual meeting of Green-it includes presentations of all Research Groups, discussions and debates, poster presentations and Meeting of the Scientific Advisory Board.