2nd ITQB PhD Students' Meeting starts
Young scientists discuss ongoing research projects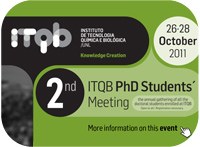 Oeiras, 26.11.11
The 2nd ITQB PhD Students' Meeting starts today.
In an event organized by the students themselves and for the next three days, ITQB PhD students will be presenting their research work with a series of talks and posters. The program also includes talks by recognized scientists from different areas, João Paulo Crespo from FCT-UNL, Hélder Maiato from IBMC, and Maria Carmo-Fonseca from IMM, who will discuss their research and share their experience in science with the students.
Closing the 2nd day and thinking outside the scientific box, the performer and motivational speaker, Pedro Tochas, has been invited to give a different perspective on motivation.
Finally, everyone is invited to join the final round table discussion on day 3 entitled "The path ahead from an idea to a start-up company" with the participation of António Câmara (YDreams), William Heggie (Hovione), Carlos Romão (Alfama), Carlos Fontes (NZYTech), Patrícia Calado (Bioalvo) and Paulo Andrez (DNA Cascais).
More on the Meeting's Program
See Abstract book