4th General meeting GREEN-IT
Annual meeting of Green-it research unit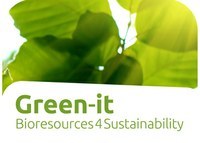 Oeiras, 9.11.2018
The 4th Annual Meeting of the Bioresources for Sustainability Unit GREEN-IT will take place next week, 13 and 14 November, at ITQB NOVA and INIAV.
GREEN-IT is a Fundação para a Ciência e a Tecnologia funded research unit, composed by laboratories within ITQB NOVA, Instituto de Biologia Experimental e Tecnológica iBET and Instituto Gulbenkian de Ciência IGC. In the new proposal submitted early in 2018, also some labs from Instituto Nacional de Investigação Agrária e Veterinária INIAV and Instituto Nacional de Saúde Ricardo Jorge INSA. This multidisciplinary team is now gathering efforts to explore plant resources, using biological strategies, and address key societal challenges in the agro-forestry sector, contributing for food security, environmental protection and a bio-based economy.
The annual meeting of GREEN-IT includes presentations of all Research Groups, discussions and debates, and Meeting of the Scientific Advisory Board. This year it will also include an open mini workshop with GREEN-IT alumni.