Annual meeting MOSTMICRO research unit
ITQB NOVA research unit welcomes new members and gathers with Scientific Advisory Board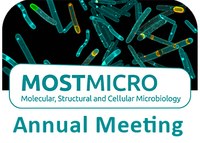 Oeiras, 05.01.2017
The annual meeting of the Molecular, Structural and Cellular Microbiology Unit (MOSTMICRO) of ITQB NOVA will be held 9 and 10th January.
It will be an opportunity for researchers to get updated on all the latest work from the other groups, to meet with the Scientific Advisory Board for mentoring and also to present the four new principal investigators of the unit.
Alvaro Crevenna, Manuel N. Melo, Tiago Cordeiro and Zach Hensel are the new MOSTMICRO lab heads that have been selected in a highly competitive application procedure. Their talks will be open to the public (10th January, 9h30-12h00) and they will present their laboratories.
According to Cláudio M. Soares, ITQB NOVA Dean and MOSTMICRO Coordinator, "this will be a great opportunity to have an outside view on our work and vision for the future, from our outstanding Scientific Advisory Board. Also, our new members will make us progress further in our scientific mission and enhance our collaborative spirit". Cláudio M. Soares also stresses that "the research units where we participate (MOSTMICRO, GREEN-IT, and iNOVA4HEALTH) are a way to cluster our research activities, but our greatest strenght is coming together as a solid ITQB NOVA".

MOSTMICRO is one of ITQB NOVA research units funded by Fundação para a Ciência e a Tecnologia, classified as "Excellent". This is a multidisciplinary unit composed by 29 laboratories that collaborate to advance the fundamental knowledge of living organisms, with emphasis on important bacterial pathogens, having as ultimate goal the improvement of human health.