Applications for 3 MOSTMICRO-ITQB NOVA PhD Fellowships are open
Research fellowships are intended for applicants or candidates in the PhD Program in Molecular Biosciences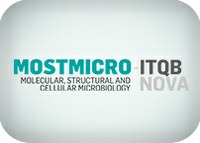 Oeiras, 30 October 2023
The research unit MOSTMICRO-ITQB NOVA has opened calls for three PhD Fellowships. Students can apply until 10 November 2023, at 5 PM (Lisbon time) to develop their PhD research in one of the research unit's labs. These Research Fellowships are intended for applicants or candidates who meet the necessary conditions to enrol in the Doctoral Programme in Molecular Biosciences and who wish to develop research activities leading to obtaining an academic PhD degree from ITQB NOVA.
The fellowship's work plan will consists of the development of a research project in on one of the following thematic lines:
Bioelectrochemistry and Electrobiotechnology - Supervised by Felipe Conzuelo
Intracellular Microbial Infection Biology - Supervised by Pedro Matos
Human Microbiota – Xenobiotics Interactions - Supervised by Sarela Garcia

Learn more about the calls and come join us! Official Announcement here.