Announcing course on Cells for Compound Screening
The final registration deadline is June 30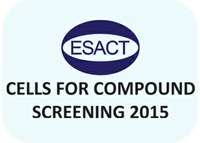 Oeiras 29.04.2015
With the contribuition of ITQB and iBET, the European Society for Animal Cell Technology (ESACT) is organizing a training course that covers all critical aspects of mammalian cell based screens for the identification of biologically active compounds. The course will take place Llafranc, Costa Brava, in Spain, from September 23rd to 26th 2015. The early registration deadline is June 30.
The course, now in its second edition, is aimed at Lab managers, Scientists, Post-Docs, PhD students, and Engineers from both Academia and Industry, who will have the opportunity to learn about high quality cell source and production, cellular assay optimization and cell assay applications. In summary, the course offers basic and pharmaceutical industry know-how to a broader community.
The program has slots dedicated to the preparation and presentation of case studies by participants, and to discussion groups with the lecturers. Confirmed lecturers include Rosalia Arrebola (Sanofi, France), Catarina Brito (iBET, Portugal), Christa Burger (Merck, Germany), Hansjörg Hauser (HZI, Germany), Stephanie Hennen (Uni Bonn, Germany), Eberhard Krauß (VIB Headquarters, Belgium), Heinz Ruffner (Novartis, Switzerland) and Urs Lüthi (Actelion, Switzerland).
The course will cover the following topics:
Target Identification and validation: assays for target identification
Preclinical testing: role of cell models and animal models during drug development
Assay Development and validation: criteria for a good cell assay for each stage/question
Cell line selection: choose the best cell line for the purpose and assay
Cell material production and validation: reproducible cell material production and validation: cultivation/isolation, cell stocks, plate production
Frequently used cellular HTS assays: points to consider for assays as binding, FLlPR, receptor signalling, reporter, growth, localization
Complex cellular assays: HCS and experience with 3D and si-RNA screens
Equipment and logistic: automation, data storage and data analysis
For more information go to www.esact.org or download the course leaflet [pdf]
The final registration deadline is August 15.
Note: This course is preceeded by the Animal Cell Technology Course also organized by ESACT (Sep 27-Oct 1)