Expression of Interest: DOCTORATES 4 COVID-19 FCT and AICIB Call
Candidates will benefit from the support of ITQB NOVA's pre-award team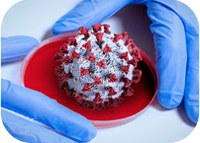 The Fundação para a Ciência e a Tecnologia (FCT) and the Agência de Investigação Clínica e Inovação Biomédica (AICIB) have opened a PhD call in response to the COVID-19 outbreak. At ITQB NOVA, several teams are working on basic and applied research related to the SARS-COV-2 virus, ranging from new approaches to testing to drug design. If you would like to study the virus during your PhD, we would like to hear from you.
ITQB NOVA is an institution within the Universidade NOVA de Lisboa. Its mission is to carry out scientific research and postgraduate training in Life sciences, Chemistry, and Associated Technologies. Its research has been graded Excellent in the recent Evaluation of Portuguese scientific Units, which reinforces ITQB NOVA's role as one of the leading research centres in its field and as a major national and international resource for basic and applied research.
The institute has strong expertise in Molecular Biosciences, driving research with impact in two strategic Horizon 2020 societal challenges: the well-being of human societies (Molecular Basis of Health and Disease) and the environment (Biological Resources and Sustainable Development). With 52 independent labs, ITQB NOVA hosts 500 researchers with different backgrounds and research interests, contributing to a vibrant multidisciplinary scientific atmosphere. Information on suggested projects and supervisors is available below. If you would like to propose a different project, please let us know.
Interested candidates are encouraged to send a short CV (max. 2 pages) and a motivation letter (max. 1 page) to itqb.funding@itqb.unl.pt as soon as possible, but no later than 7 May 2020, indicating the research area and/or labs in which they would like to develop their project. Candidates will benefit from the support of ITQB NOVA pre-award team throughout the writing and application process, to ensure an excellent starting point for a successful application.
The FCT/AICIB deadline for applications is 14 May 2020.
1. Blunting the spike: Rationally designed inhibitors targeting the SARS-CoV-2 fusion protein
Lab: Protein Modelling and Structural Genomics
Supervisor: Diana Lousa (ITQB NOVA)
Co-Supervisors: João Vicente and Cláudio M. Soares (ITQB NOVA)
2. Sticking it to COVID-19: Tuning ACE2 and SARS-CoV/MERS-CoV antibodies to bind and neutralize SARS-CoV-2
Supervisor: Manuel N. Melo (ITQB NOVA)
Co-Supervisors: Miguel Castanho (iMM) and Isabel Abreu (ITQB NOVA)