FCT new Board of Directors appointed
Ana Sanchez from ITQB is part of the new board of the Science funding agency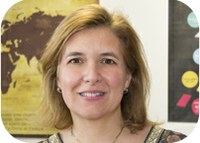 Oeiras, 04.02.2016
The new board of Directors of Fundação para a Ciência e Tecnologia (FCT), the Portuguese science funding agency, was announced today. Paulo Ferrão (Instituto Superior Técnico) will be the new FCT President, succeeding Maria Arménia Carrondo from ITQB NOVA. The board further includes Miguel Castanho (Faculdade de Medicina de Lisboa) as Vice President, and Isabel Ribeiro (Instituto Superior Técnico) and Ana Sanchez (ITQB NOVA) as Members of the board.
Ana Sanchez has been head of the Science Communication Office at ITQB NOVA since 2005. She is also a professor in Science Communication and a member of the MOSTMICRO research unit. Her appointment to the FCT Direction is a recognition of her excellent work in science communication, as a professional, teacher, researcher and also as a key player in the development of the national Science Communication community.
ITQB welcomes back Maria Arménia Carrondo, and wishes all the best to Ana Sanchez and the new FCT Direction.