Four MOSTMICRO Research Positions available
Applications are welcome till January 31 2016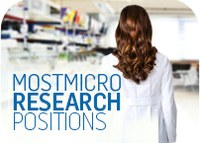 Oeiras, 03.12.2015
The MOSTMICRO Research Unit of ITQB-NOVA invites applications for up to four researcher positions in two areas: Molecular and Structural Biology and Molecular and Cellular Microbiology.
We seek candidates with an excellent track record in modern areas of Microbiology and Structural Biology to join our multidisciplinary research team.
Candidates should propose innovative research plans, to establish an active research group, and be willing to participate in existing research programs in, but not restricted to, the following areas:
Host-pathogen interactions and Infection Biology
Control Mechanisms in Microbes
Synthetic Biology
Advanced Spectroscopic Techniques
Enzymology
Supramolecular Structural Biology
BioNMR
Biocrystallography
Computational Structural Biology
Bacterial Molecular and Cellular Biophysics
Candidates are also expected to contribute to the ongoing Master and PhD Programs at ITQB-NOVA.
MOSTMICRO will support successful applicants with a start-up package, individual lab space, modern facilities, technical and administrative support, and a competitive salary (with social benefits). This is an annual contract, equivalent to the Assistant Professor level and renewable for up to five years.
Applications should be submitted electronically till 31st January 2016 17h00 GMT.
See MOSTMICRO webpage for more information.
For further enquiries please contact mostmicropositions@itqb.unl.pt