Impact of food bioactives for health discussed in Portugal
2nd International Conference on Food Bioactives & Health held in Lisbon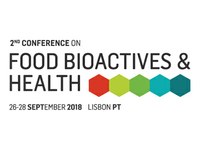 Oeiras, 21.02.2018
ITQB NOVA and iBET are organizing the 2nd International Conference on Food Bioactives and Health (FBHC 2018) which will be held on 26-28th September 2018 in Lisbon, Portugal. After the great success of the 1st International Conference on Food Bioactive & Health held in Norwich in 2016, reuniting more than 300 delegates, it is expected an increased number of delegates from all over the world including renowned speakers over 3 days at Universidade Nova de Lisboa for FBHC 2018.
The meeting will cover the whole palette of interests of the community including the impact of polyphenols, carotenoids, glucosinolates, marine compounds, polysaccharides, peptides and proteins as food bioactives for health.
"It is a great pleasure and an honor to welcome the international community of food bioactives and health in Portugal for the second edition of this premier scientific event", said Cláudia Nunes dos Santos, PI at ITQB NOVA and IBET and chairperson of the organizing committee. "This Conference is a very important forum for the attendees to improve their scientific knowledge and explore the latest trends in the field. It is also fundamental for the networking opportunities, providing the opportunity to interact with leading scientists and stimulating creative exchange among researchers and interested stakeholders in academia, clinic or industry."
Deadline for abstract submission for FBHC2018 is due on February 28th and the early bird online registration fee is avalible until April 1st. Check the conference website for more details and follow the activity on Facebook and Twitter.