Margarida Trindade amongst the grand winners of the BLA award
Curricular Unit developed by ITQB NOVA, Margarida Trindade, and three NOVA FCSH professors has been awarded the Blended Learning Award (BLA) grand jury award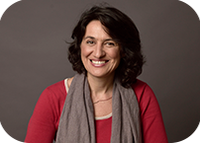 The curricular unit "Research Manager as a profession in the EU ecosystem: concepts, tools and practice", developed in partnership between NOVA FCSH and ITQB NOVA, was distinguished with the Blended Learning Award (BLA) grand jury award.
After winning the award in the Social Sciences and Humanities category (read here), ITQB NOVA's Margarida Trindade, along with NOVA FCSH colleagues Susana Trovão, Cristina Oliveira and Chrysi Rapanta, won the first edition of the BLA competition, in the final in Rome, in the beginning of May.
BLA rewards the best blended-learning courses in each of the three partner universities (NOVA FCSH; NOVA, Autonomous University of Madrid and Tor Vergata University of Rome), in different areas of knowledge, and the efforts of their faculty to respond to the COVID-19 challenge of distance education.