New Year Honour for Prof. Kenneth Seddon
Order of the British Empire attributed to ITQB's Visiting Professor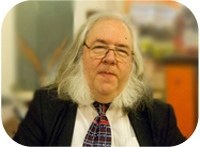 Oeiras, 14.01.2015
Kenneth Seddon, Visiting Full Professor at ITQB-UNL since 2005, has been awarded one of the highest recognitions in the UK, the OBE or Officer of the Order of the British Empire, for his services to chemistry.
The Most Excellent Order of the British Empire was created in 1917 by Geoge V and recognises distinguished service to the arts and sciences, public services outside the Civil Service and work with charitable and welfare organisations of all kinds. The lists of who's received honours are published at New Year and on the Queen's official birthday in June. The New Year Honours List 2015 is available here.
Kenneth R. Seddonis internationally recognized as the most prominent scientist in the field of ionic liquids. He was born in Liverpool in 1950, and graduated from Liverpool University with a first class BSc (Hons) and a PhD. In 1993, he was appointed to the Chair in Inorganic Chemistry at the Queen's University of Belfast, where he is also one of the directors of QUILL (Queen's University Ionic Liquids Laboratories), an industrial-academic consortium. Among many awards, Ken has received the 2006 Queen's Anniversary Prize for Higher and Further Education, and in 2011 was identified as one of the world's top chemists of the decade. He is a Professor Catedrático Visitante at ITQB –UNL and holds a visiting professorship of the Chinese Academy of Sciences. He has published over 350 papers and patents, co-authored four books, and co-edited nine books. The OBE now attributed is a well-deserved recognition for a lifetime of dedication to science.