Sónia Negrão awarded by the President of Ireland
ITQB NOVA alumna and GREEN-IT Bioresources for Sustainability member received the Future Research Leaders Award to study a more sustainable production of barley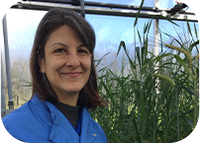 Sónia Negrão, received this Monday, March 2, in Dublin, the SFI President of Ireland Future Research Leaders Award, from the hands of the President of Ireland, Michael D. Higgins. The prize is given by the Science Foundation Ireland – SFI and the President of Ireland, and aims to distinguish and retain outstanding early-career research leaders with exceptional accomplishments in scientific and engineering domains.
Sónia Negrão is a Professor at University College Dublin and an integrated member of the ITQB NOVA research unit GREEN-IT Bioresources for Sustainability. The scientist got her PhD from ITQB NOVA in 2008, in plant breeding. In 2018 she moved to Ireland, where she develops the research that has now been distinguished.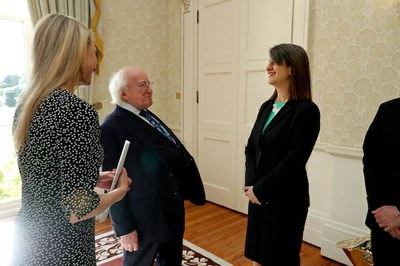 The award of about 1.5 million euros will support Sonia Negrão's project to develop strategies to ensure a more sustainable barley production. "I am delighted and honored to receive this prestigious award from President Michael D. Higgins. I am extremely thankful for the SFI President of Ireland Future Research Leaders Award as a recognition of my research potential", says the researcher.
Climate change is driving the occurrence of extreme weather events, resulting in elevated rainfall that severely adversely affects barley production. These yield reductions will significantly impact the malting industry, with forecasts estimating a sharp rise in beer and whiskey prices. Through the combination of advanced genomic techniques with imaging platforms, using drones and artificial intelligence, the researcher intends to recover characteristics of the oldest barley varieties and that make them more resistant to these environmental conditions. "I am looking forward to contributing to a more sustainable production of barley in Ireland in the face of climate change and strengthening Ireland's international reputation in Plant Science", adds Sónia Negrão.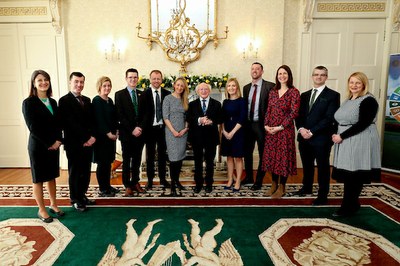 The SFI President of Ireland Future Research Leaders Award honors early-stage researchers who are working in Ireland and who excel in their research and scientific and technological advances. "We recognise the important role science has in empowering people to explore, innovate and collaborate for a better future", stresses President Michael D. Higgins. The ten awards represent an investment of €15 million, with a duration of five years each, and will also support the additional recruitment of 40 research positions.
"I am delighted to see the ten awardees choosing to come to Ireland to continue their work and congratulate them on their achievements. We are dedicated to supporting research leaders with ideas to drive innovation and assist Ireland and the world in meeting the many challenges we face, from climate change, supporting healthy ageing and understanding the universe.", adds Ruth Freeman, SFI Director.
In the news