The chemistry behind nuclear medicine
Researchers develop two new copper complexes remarkably inert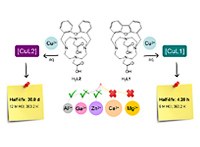 Oeiras, 20.05.2013
Advances in tumor radiotherapy and in diagnostic imaging techniques, such as positron emission tomography (PET), require a lot of chemistry. For effective imaging and therapy, radionuclides such as copper-64 or copper-67, must be delivered to the living system as stable complexes attached to a biological targeting molecule. Researchers from the Coordination and Supramolecular Chemistry Lab and collaborators have developed and characterized two new copper complexes able to resist to very harsh acidic conditions and, thus, extraordinarily inert. The work is published in Inorganic Chemistry.
The two new copper(II) complexes are very selective in the presence of other biological metal ions, which is very important to ensure that the metal ions largely present in the human body will not be involved in transchelation, something that would release the radionuclide non-specifically in the body. Additionally, the fact that these compounds have very long half-life times places them under especially good conditions for medical applications.
The two new cross-bridged cyclen-based macrocycles compounds bearing two trans-N-acetic acid arms, one having a dibenzofuran (DBF) moiety as the bridge, H2L1, and the other a diphenyl ether (DPE) one, H2L2 exhibit an excellent selectivity for copper(II) metal ion, forming extremely inert complexes that are able to resist to very harsh acidic conditions. The acid-assisted dissociation of [CuL1] led to a half-life of 4.28 h in 5 M HCl at 90 ºC, while [CuL2] needed harsher conditions of 12 M HCl at 90 ºC resulting a half-life of 30.8 days. Apparently, [CuL2] exhibits the highest half-life value for a copper(II) complex of a polyazamacrocycle derivative reported in the literature until now.
Original Article
Inorg. Chem., 2013, 52 (9), pp 5138–5153. DOI: 10.1021/ic400015v
Remarkable Inertness of Copper(II) Chelates of Cyclen-Based Macrobicycles with Two trans-N-Acetate Arms
Catarina V. Esteves, Pedro Lamosa, Rita Delgado, Judite Costa, Pauline Désogère, Yoann Rousselin, Christine Goze, Franck Denat