Tracking the life story of an MRSA clone
High-throughput genomics for molecular epidemiology published in Science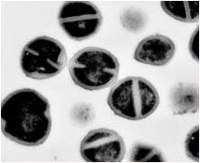 Staphylococcus aureus
Oeiras, 22.01.10
The increasing antibiotic resistance of bacteria has become a major healthcare problem. But how does resistance arise and how is it transmitted? Concentrating on Methicillin Resistant Staphylococcus aureus (MRSA), one of the most feared bacteria in hospitals, and resorting to a high throughput DNA sequencing method, researchers deciphered the family history of a specific MRSA clone, throughout the globe over four decades. Susana Gardete, Ana Tavares and Hermínia de Lencastre, from the Laboratory of Molecular Genetics at ITQB, are among the authors of the study published today in Science.

Molecular epidemiology techniques currently available for MRSA can only differentiate few clones (bacteria with the same origin), like the ST239-SCCmec III or Brazilian clone under study. But, by fully sequencing the DNA of 43 MRSA isolates selected from a large bacterial collection collected between 1982 and 2003 from all over the globe (preserved and characterized at ITQB, under the CEM/NET Initiative), the researchers were able to spot every single difference between bacterial genomes and thus trace their relationship and evolution. They concluded that, while intercontinental spread was limited in this period, a transmission was followed by an expansion of variant clones at the new geographic location, where they evolved independently. Sometimes one of the clones became dominant and caused an outbreak.

Calculating the mutation rate in this bacterial lineage, researchers traced the origin of the oldest antibiotic resistance causing mutation to the 60's, a time when antibiotics were broadly used in Europe. In addition, researchers demonstrated that other common mutations were acquired independently by different descendants and at the same rate as antibiotic resistance arose. This confirms the role of antibiotics as the main causative agents of development of antibiotic resistance.

Researchers also compared the genomes of MRSA from a single hospital (20 isolates collected over 7 months from patients in a Northeast Thailand Hospital) and found that no two isolates are alike. The five samples that were more closely related were found to have been collected from adjacent wardens.

With the right surveillance mechanisms, researchers hope that this highly sensitive epidemiological design will contribute to understand the evolution history of different clones of S. aureus and other pathogens. Moreover this approach creates a platform to detect and thus control future outbreaks of MRSA or any other bacterial pathogen.
Original Article
Science 22 January 2010: 469-474.
Evolution of MRSA During Hospital Transmission and Intercontinental Spread
Simon R. Harris, Edward J. Feil, Matthew T. G. Holden, Michael A. Quail, Emma K. Nickerson, Narisara Chantratita, Susana Gardete, Ana Tavares, Nick Day, Jodi A. Lindsay, Jonathan D. Edgeworth, Hermínia de Lencastre, Julian Parkhill, Sharon J. Peacock, and Stephen D. Bentley
"MRSA bacteria mutates quickly as it spreads" In Science News 21.01.2010
"Researchers track evolution and spread of drug-resistant bacteria across hospitals and continents" In Newswire The Rockefeller University