Two faces of science communication: peers and lay audiences
Interbio workshop at ITQB from March 19 to March 23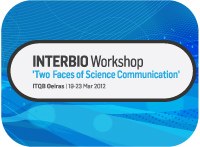 Oeiras, 19.03.12
The international Interbio workshop 'Two faces of Science Communication' starts today. From March 19 till March 23, ITQB will welcome thirty participants within INTERBIO, a scientific network from Southwest Europe, for a practical workshop on the role of researchers in scientific communication, both between peers and to lay audiences.
Training scientific writing, learning about science communication activities within the Interbio network, and practicing talking to the public, with professional science communicators, are the main proposals of this 5- day Interbio Workshop.
In a session open to all interested in these topics, on the 22nd March the workshop focuses "Communication to the public: the role of researchers" and discusses why and how researchers can get involved in science communicating activities. Prior registration is required. The day ends with a brief set of presentations on the role of projects such as Interbio for interregional development.
Interbio is a consortium of research institutions from Southwest Europe, jointly financed by the INTERREG IVB Sudoe transnational cooperation program 2007-2013, Priority 1: "The promotion of innovation and the setting up of long lasting cooperative networks in the technology field". The consortium's main objective is to develop interdisciplinary research in the interface between chemistry and life/health sciences following three main axes; promote interdisciplinary research collaborations, gather expertise and optimize access to technological platforms, and support technology transfer and social utilization of knowledge, namely through SMEs. The consortium includes research institutions from Toulouse, Bordeaux, Valencia, Barcelona, and Lisbon.