Programme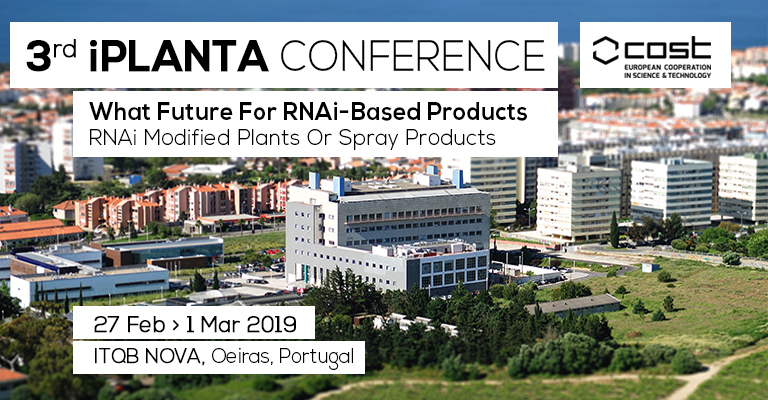 DAY 1 - WEDNESDAY FEBRUARY 27TH, 2019
8:30 – Registration 3rd iPLANTA Conference
9:30 - Welcome adress: Bruno Mezzetti, Jeremy Sweet, Pedro Fevereiro, Cláudio Soares (Director of ITQB) and Nuno Canada (President of INIAV)
9:45 - Open Session 1 - Oral Presentations (15 min each) - Chairperson Pedro Fevereiro
1 - M.A. AKBUDAK, V. SRIVASTAVA: TERMINATOR: LESS TRANSGENE CONSTRUCTS TRIGGER RNAi PATHWAY
2 - JEAN-PHILIPPE COMBIER: MICRORNA: ENCODED PEPTIDES AS A NEW SOURCE OF MOLECULES FOR SUSTAINED AGRICULTURE
3 - ANTJE DIETZ-PFEILSTETTER, ULRIKE MANSKE: CHARACTERISATION OF EPIALLELIC VARIANTS OF A SILENCED TRANSGENIC TOBACCO LINE
4 - A. SMOCZYNSKA, A.GRABOWSKA, A.PACAK, A.JARMOLOWSKI AND Z.SZWEYKOWSKA-KULINSKA: BARLEY MIR444.3 AND ITS TARGET - MADS27 TRANSCRIPTION FACTOR CONTROL ROOT RESPONSE TO NITRPOGEN EXCESS
5 - HRVOJE FULGOSI AND LEA VOJTA: CHLOROPLAST COMPLEX IMMUNOPHILIN CYP38 AS A TARGET FOR RNAi SILENCING
6 - Z. SZWEYKOWSKA-KULINSKA, A. PACAK, A. SMOCZYNSKA, K. KRUSZKA, A. SWIDA-BARTECZKA, W. KARLOWSKI, D. TARKOWSKA, A. JARMOLOWSKI: MIR444.1 EXPRESSION CONTROLS TILLERING IN BARLEY PLANTS AND STRONGLY AFFECTS GRAIN PRODUCTION
11:15 – 11:45 - Coffee Break
11:45 - International Invited Lecture 1 (45 min) - Chairperson Huw Jones
W. MOAR, R. FERNANDEZ CANTON, K. GIDDINGS, G. WATSON, J. PETRICK, AND C. BROWN
REGULATORY CONSIDERATIONS FOR RNAi-BASED PRODUCTS: THE PARADIGM FOR TRANSGENICS AND BIOLOGICALS IS STILL APPROPRIATE
12:30 - General Discussion
13:00 - 14:15 - Lunch
14:15 - Open Session 2 - Oral Presentations (15 min each) - Chairperson Bruno Mezzetti
1 - B. MACUCHOVA, L. OHNOUTKOVA, T. VLCKO, S. HAYTA, M. SMEDLEY, P. CEJRNAR, W. HARWOOD: HIGH EFFICIENT TRANSFORMATION OF RNAi CONSTRUCTS AGAINST WDV VIRUS IN WHEAT
2 - A. GRABOWSKA, A. SMOCZYŃSKA, A. JARMOŁOWSKI AND Z. SZWEYKOWSKA-KULIŃSKA: BARLEY PRI-MIRNAS FROM MIR444 FAMILY ENCODE PEPTIDES
3 - KHIRA LETTKEMANN, PETRA HOFFMANN, MATTHIAS FLADUNG : CHITO-POP: IMPROVEMENT OF MYCORRHIZA SYMBIOSIS AND MELAMPSORA SPP. RESISTANCE BY CRISPR/CAS9 MODIFICATION OF LYSM-RLK PROTEINS
4 - TOBIAS BRUEGMANN, MATTHIAS FLADUNG: DNA-FREE GENOME EDITNG FOR GENE KNOCKOUT
15:15 - International Invited Lecture 2 (45 min) - Chairperson Attila Molnar
1 - D. CAGLIARI, ERICMAR A. DOS SANTOS, NAYMÃ P. DIAS; FREDERICO S. KREMER, GUY SMAGGHE, MOISES J. ZOTTI
VIGS: AN ALTERNATIVE dsRNA DELIVERY STRATEGY IN EUSCHISTUS HEROS
16:00 – 16.30 - Coffee Break and Poster Session
16:30 - Open Session 3 - Oral Presentations (15 min each) - Chairperson Guy Smagghe
1 - DALAKOURAS A., JARAUSCH W., BUCHHOLZ G., BASSLER A., BRAUN M., MANTHEY T., KRCZAL G. AND WASSENEGGER M.: DELIVERY OF SMALL INTERFERING RNA AND DOUBLE STRANDED RNA INTO PLANT
2 - MARKO PETEK, ANNA COLL, TJAŠA LUKAN, BARBARA DUŠAK, KATJA STARE, KRISTINA GRUDEN: SILENCING ETHYLENE RESPONSE FACTOR STERF49 REVEALS ITS ROLE AS NEGATIVE REGULATOR OF POTATO DEFENCE RESPONSE AGAINST PVY
3 - ADÉLA RŮŽIČKOVÁ, YUE FEI, LUKÁŠ FISCHER AND ATTILA MOLNAR: INVESTIGATING THE EFFECT OF RNAi-INDUCED HETEROCHROMATIN ON GENE EDITING
4 - M.VINCEKOVIĆ, S. JURIĆ, N. JALŠENJAK, K. VLAHOVIČEK KAHLINA, L. MASLOV BANDIĆ, M. VISKIĆ, M. MRKONIĆ FUKA: ENCAPSULATION METHOD AS A PROMISSING TOOL FOR RNAi-BASED PRODUCTS IN PLANT PROTECTION
5 - J.R. PARREIRA, M. CAPPUCCIO, A. BALESTRAZZI, P. FEVEREIRO, S.S. ARAÚJO: POST TRANSCRIPTIONAL REGULATION MEDIATED BY MIRNAS DURING SEED DEVELOPMENT IN PHASEOLUS VULGARIS L
17:45 - General Discussion
18:30 - end of the day
DAY 2 – THURSDAY FEBRUARY 28TH, 2019
8:45 - Open Session 4 - Oral Presentations (15 min each) - Chairperson Salvatore Arpaia
1 - M. RAVELONANDRO, P. BRIARD , R.SCORZA, A. CALLAHAN, C.DARDICK: SUSTAINABLE RESPONSE OF PLUM-TREE TO VIRUS INFECTION
2 - K.VASUDEVAN AND H.VANDERSCHUREN: DEVELOPMENT OF WHITEFLY RESISTANCE IN CASSAVA THROUGH RNA SILENCING APPROACHES
3 - YONGWEI SUN, CAROLINE SPARKS, HUW D JONES, MANDY RILEY, FRÉDÉRIC FRANCIS, AND LANQIN XIA: SILENCING AN ESSENTIAL GENE INVOLVED IN INFESTATION AND DIGESTION IN GRAIN APHID THROUGH PLANT-MEDIATED RNA INTERFERENCE GENERATES APHID-RESISTANT WHEAT PLANTS
4 - C.N.T.TANING, O.CHRISTIAENS, L.SWEVERS, G.SMAGGHE: EXPLOITING AN ENGINEERED INSECT VIRUS AS A DELIVERY VEHICLE TO IMPROVE RNAI EFFECTS IN FRUIT FLIES
5 - A.S.DUQUE, I.TRINDADE, S.COSTA, D.SANTOS, P.FEVEREIRO: MEDICAGO TRUNCATULA PLANTS WITH INHIBITED MiR408 ACTIVITY (MIM408) SHOW REDUCED SOMATIC EMBRYOGENIC COMPETENCE
10:00-10:45 Coffee break and Poster Session
10.45 - Open Session 5 - Oral Presentations (15 min each) - Chairperson Jeremy Sweet
1 - EHSAN VALIOLLAHI & JORGE A. PINTO PAIVA: EUCALYPTUS GLOBULUS LONG NONCODING RNAs: GENOME-WIDE IDENTIFICATION AND CHARACTERIZATION
2 - O. CHRISTIAENS, K. PRENTICE, J. WILLOW, S. GUI, M. JAHANI, C. N.T. TANING, K. DE SCHUTTER, M. FERRANTE, E. KAURILIND, N.L. CASTELLANOS, E. VEROMANN, G. LOVEI, G. SMAGGHE: INVESTIGATION OF POSSIBLE OFF-TARGET GENE SILENCING IN THE PARASITOID WASP NASONIA VITRIPENNISUPON FEEDING BEETLE-SPECIFIC DSRNA, USING A COMBINED BIOINFORMATICS AND QPCR APPROACH
3 - A. RAYBOULD, H. THOMPSON, A. BURNS, K. SCHLINK: PROBLEM FORMULATION: ENVIRONMENTAL RISK ASSESSMENT FOR SPRAY APPLICATIONS OF INSECTICIDES CONTAINING DOUBLE-STRANDED RNA
4 - I. ZAGRAI, L.A. ZAGRAI, M. RAVELONANDRO, R. SCORZA, G. GUZU: ASSESSMENT OF THE DIVERSITY AND DYNAMICS OF APHID POPULATION AND BEES PREFERENCES FOR TRANSGENIC AND CONVENTIONAL PLUMS
5 -D.C.M. GLANDORF,C.P.E. VAN RIJN, J.W.A.SCHEEPMAKER: ENVIRONMENTAL RISK ASSESSMENT OF RNA SPRAYS – WHAT CAN WE LEARN FROM RNAI BASED PLANTS?
12:00 - 12:30 General Discussion
12:30 - 14:00 Lunch
14.00 - Open Session 6 - Oral Presentations (15 min each) - Chairperson William Moar
1 - H.A. KUIPER, G.A. KLETER, E.J. KOK: FOOD AND FEED SAFETY CONSIDERAT|IONS FOR RNAi-MODIFIED PLANTS
2 - L.A. ZAGRAI, I. ZAGRAI, R. SCORZA, M. RAVELONANDRO, G. GUZU: HONEYSWEET – AN RNAI BASED TRANSGENIC PLUM ADAPTED TO THE PPV ENDEMIC AND ECOLOGICAL CONDITION FROM ROMANIA
14:30 - International Invited Lecture 3 (45 min) - Chairperson Vera Ventura
A. SHEW, L.L. NALLEY, H. SNELL, R. NAYGA, B. DICKSON
NEW AND OLD BIOTECH: OPPORTUNITIES AND CHALLENGES FOR WINNING CONSUMERS TO CRISPR IN FOOD PRODUCTION
15:15-15:30 Coffee break
15:30 - Session 7 - Oral Presentations (15 min each) - Chairperson Matina Tsalavouta
1 - P. FEVEREIRO: INNOVPLANTPROTECT – A PRIVATE NON PROFIT INITIATIVE TO DEVELOP NEW PLANT PROTECT SOLUTIONS
2 - M. VIGANI, R.BERRY, J. URQUHART: FARMERS PREFERENCES TOWARDS GENE EDITED CROP REGULATION IN POST-BREXIT UK
3 - HILDE-GUNN OPSAHL-SORTEBERG: DISSEMINATION ACTIVITIES AND IMPORTANT BASELINES TO SUCCEED, INCLUDING COMMUNICATION HIGHLIGHTS FROM COST ACADEMY COURSES
15:30 - International Invited Lecture 4 (45 min) - Chairperson Hilde-Gunn Opsahl-Sorteberg
F. BOUDER
IMPROVING SCIENTIFIC COMMUNICATION ON CHALLENGING TOPICS: LESSONS FROM 50 YEARS OF RISK COMMUNICATION RESEARCH
16:15 - Round Table and General Discussion
18:00 - end of the day
19:30 - Conference Dinner
DAY 3 – FRIDAY MARCH 1ST, 2019
9:00 - Management committee meeting (in parallel with Poster session)
12:30 - End of the conference - Farewell
POSTERS
1 - Y.ZHAO, F.REN, Q.LU, J.SUN,L.SWEVERS: BIOTECHNOLOGICAL SOLUTIONS FOR DELIVERY OF DSRNA TO CROP PESTS THAT DO NOT INVOLVE TRANSGENIC ORGANISMS
2 - E. G. PAPAZOGLOU, S. ARPAIA: PHYTOREMEDIATION OF POLLUTED SOILS USING RNAi PLANTS
3 - A. RICCI, C.O.LIMERA, L. CAPRIOTTI, B.MEZZETTI, S.SABBADINI: EVALUATION OF DIFFERENT FACTORS IN OPTIMIZING STABLE EXPRESSION OF PPV-HAIRPIN CONSTRUCT IN HANSEN 536 (Prunus persica x Prunus amygdalus) PEACH ROOTSTOCK
4 - Z. GERSI, M.ZIMOVA, E.BOSZORADOVA, I.MATUSIKOVA, K. RAZNA,J.MORAVCIKOVA: MICRO RNAS IN TRANSGENIC AND NONTRANSGENIC TOBACCO PLANTS EXPOSED TO ABIOTIC STRESS.
5 - K. MULLER, Z. VONDRAKOVA, R. FILEPOVA, T. MORAVEC, J. PETRASEK: SIMPLE WORKFLOW FOR RNAI-INDUCING CONSTRUCT USING GOLDENBRAID CLONING SYSTEM
6 - N.SADOT, O.SHOSEYOV: GRAPEVINE-LEAFROLL ASSOCIATED VIRUS AND ITS CURE VIA RNAI
7 - L. SCHAEFER, S. BOURRAS, B. KELLER: OST-INDUCED GENE SILENCING IN WHEAT POWDERY MILDEW
8 - N. ALBURQUERQUE, P. DÍAZ-VIVANCOS, L. FAIZE, J. A. HERNÁNDEZ, LORENZO BURGOS: PRELIMINARY RESULTS ON ROOTSTOCK-TO-SCION TRANSFER OF TRANSGENE-DERIVED SMALL INTERFERING RNAs AND THEIR EFFECT ON SHARKA RESISTANCE IN NON-TRANSGENIC FRUIT TREES
10 - KNORR E, FISHILEVICH E, TENBUSCH L, FREY MLF, RANGASAMY M, BILLION A, WORDEN SE, GANDRA P, ARORA K, LO W, SCHULENBERG G, VALVERDE-GARCIA P, VILCINSKAS A, NARVA KE: GENE SILENCING IN TRIBOLIUM CASTANEUM AS A TOOL FOR THE TARGETED IDENTIFICATION OF CANDIDATE RNAi TARGETS IN CROP PESTS
11 - TABEIN S, BEHJATNIA SAA, ACCOTTO GP, NORIS E, VAIRA AM, MIOZZI L: THE CHOICE OF HOMOLOGY REGION IN THE TOMATO SPOTTED WILT VIRUS GENOME IS CRUCIAL TO INDUCE RESISTANCE USING EXOGENOUSLY APPLIED DOUBLE-STRANDED RNAs
12 - JELENA GERASSIMENKO, LENNE NIGUL, ERKKI TRUVE, CECILIA SARMIENTO: AN ENDOGENOUS SUPPRESSOR OF RNA SILENCING IN ARABIDOPSIS THALIANA
13 - T. VLCKO, K.S. SINGH, P. CEJNAR, J.KUMAR, L. OHNOUTKOVA: INNOVATIVE BIOTECHNOLOGICAL STRATEGIES AGAINST WDV INFECTION IN WHEAT AND BARLEY
14 - M. TENGLEROVA,B. KLCOVA, F. ZNEBEJANEK, L. OHNOUTKOVA: RELATION BETWEEN KNOWLEDGE AND PERCEPTION OF GMO
15 - M. TRAJEROVA, P. CEJNAR2, T. VLCKO, A.. PACAK, P. Z.SZWEYKOWSKA-KULIŃSKA, J.KUMAR, L.OHNOUTKOVA: PATHOGEN DERIVED RESISTANCE TO WHEAT DWARF VIRUS IN BARLEY AND WHEAT
16 - P.H. KROGH, J. JENSEN: RISK ASSESSMENT OF NBT CROPS FOR THE SOIL ENVIRONMENT
17 - C.GUALTIERI, D.DE MARCHI, M.BELLATO, E.SAUTA, L.PASOTTI, P.MAGNI, A.BALESTRAZZI, A.MACOVEI: IN SILICO EVIDENCE OF MICRORNA-MEDIATED CROSS-KINGDOM REGULATION OF GENES INVOLVED IN THE CELLULAR RESPONSE TO VIRUSES IN MEDICAGO TRUNCATULA AND HUMANS
18 - D CORDEIRO, M. RITO, S CORREIA, J. CANHOTO: THE ROLE OF miRNAS POST-TRANSCRIPTIONAL REGULATION DURING THE ACQUISITION OF EMBRYOGENIC COMPETENCE IN TAMARILLO (Solanum Betaceum CAV.)
19 - DANIEL GEBREMICHAEL, LIJING MA, LUCA CAPRIOTTI, SILVIA SABBADINI, BRUNO MEZZETTI, ELENA BARALDI: EVALUATION OF HIGS AND SIGS AS CONTROL STRATEGY FOR GRAPEVINE DOWNY MILDEW
20 - H. TOPCU, L. GUNDUZ, H. KARCI, A.PAIZILA AND S. KAFKAS: DIFFERENTIALLY EXPRESSED miRNAsDURING MALE AND FEMALE INFLORESCENCE BUD DEVELOPMENT IN PISTACHIO
21 - A. WOŹNIAK, D. NAROŻNA, W. NOWAK, I. MORKUNAS: THE INFLUENCE OF LEAD AND ACYRTHOSIPHON PISUM ON GENERATION OF SIGNALING MOLECULES AND EXPRESSION LEVELS OF SELECTED GENES INVOLVED IN MOLECULE BIOSYNTHESIS
22 - A.CARBONELL, P.LISÓN, C.LÓPEZ, J.A.DARÒS: FAST-FORWARD IDENTIFICATION OF HIGHLY EFFECTIVE ARTIFICIAL SMALL RNAS AGAINST PLANT VIRUSES AND VIROIDS