Applications open for the PhD Programme Plants for Life
From 19 November to 5 January 2021 three mixed PhD fellowships are available, in the scope of the international PhD Programme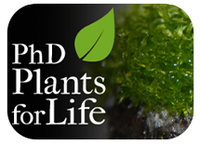 The international PhD Programme Plants for Life aims to train researchers in plant sciences to address key biological questions related to plant growth and development, such as plant responses to environmental stress and the improvement of crop varieties and plant products.

Between 19 November 2020 and 5 January 2021, applications are open for those holding an MSc in biological or agronomical sciences (or related fields) who want to further extend my knowledge on Plant Sciences.

The PhD Programme Plants for Life promotes basic research with a strong focus on translating scientific results into agricultural and industrial applications, by associating plant research centers in Portugal (ITQB NOVA, iBET, IGC, and INIAV) with world-class research centers in Europe (VIB-Plant Systems Biology-Gent University; Max Planck Institute of Molecular Plant Physiology, The Sainsbury Laboratory and The Sainsbury Laboratory - Cambridge University).

Funded by Fundação para a Ciência e a Tecnologia (FCT) within the framework of the GREEN-IT research unit, these fellowships, and opportunity provided by the Plants for Life PhD Programme, are unique in the country, representing a highly valuable input to increase competitiveness and innovation, in an area of crucial importance for the sustainable development and future of human society. Mixed Ph.D. fellowships are only available for applicants with proved permanent residence in Portugal.

Supported by supervisors the students are encouraged to develop their own path within the Programme, by writing their own project and selecting additional courses. For Luís Andrade, a PhD candidate from the second year of this programme, joining was a great choice: "it has the participation of top Portuguese researchers but also because it has a straight collaboration with other research centers recognized worldwide."

For more on the course and admission, you may send a direct contact to plantsforlife@itqb.unl.pt, or read more information, available on the programme's website.