Calling all PhD candidates
ITQB NOVA welcomes graduates to apply to FCT call for PhD scholarships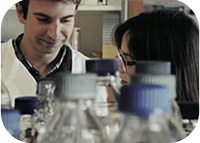 Oeiras, 6.03.2017
ITQB NOVA, the Instituto de Tecnologia Química e Biológica António Xavier of NOVA University of Lisbon, invites all graduates who wish to pursue research leading to a PhD degree to manifest their intention to join one of our PhD programs and apply to the current FCT Call for PhD Scholarships (deadline 31 March).
ITQB NOVA is a research and advanced training institute, with 11 PhD Programs running, including those on Molecular Biosciences, Plants for Life, Sustainable Chemistry and NMR applied to Chemistry, Materials and Biosciences.
These programs provide flexible state-of-the-art research oriented training in life sciences, chemistry and associated technologies, with a focus on molecular approaches to understand the mechanisms of life. Students will also have access to soft skills training and free access to NOVA Doctoral School courses.
The PhD thesis projects can be developed in any of our 63 laboratories from the 5 scientific divisions: Chemistry, Biological Chemistry, Biology, Plant Sciences and Technology.
Interested candidates must reply to this "PhD Call for Intention" by submitting the following documents to itqb.education@itqb.unl.pt until March 14, 2017
Curriculum vitae
Motivation Letter, referring the scientific areas that interest you and why
Names and contacts of 2 professional/academic references that can be contacted for further information. Please describe your relationship with them.
For students looking for Master courses we will soon open applications for Biochemistry for Health, Biotechnology for Sustainability, Medical Microbiology or Science Communication.