About the Program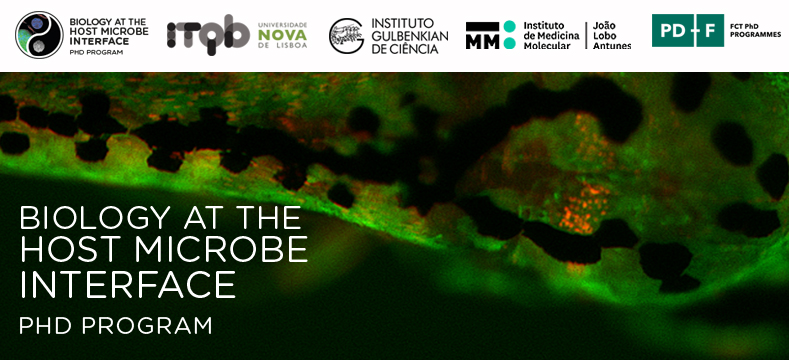 The INTERFACE program brings together three internationally renowned institutions in the Lisbon area, with strong proficiency in the field of host-microbe interactions: Instituto de Tecnologia Química e Biológica (ITQB NOVA), Instituto Gulbenkian de Ciência (IGC) and Instituto de Medicina Molecular (iMM).
ITQB/IGC/iMM provide the Interface program with a rich and exciting training and research environment that can be easily adjusted to specific expectations and needs. The Interface students will be exposed to a culture of rigor, excellence, innovation and cutting edge performance at the research, training and administrative levels, that characterizes the three Institutions.
The program will have close ties with biopharmaceutical companies and also with the European Centers for Disease Control and Prevention, which will add to the pool of training opportunities for students.
The INTERFACE program is funded by Fundação para a Ciência e a Tecnologia (FCT). Scholarships are available for up to nine outstanding PhD candidates from different areas of the natural and exact sciences who want to pursue their studies with the objective to:
1) Excel in their acquisition of knowledge aiming to contribute to the advancement of science in general;
2) Understand the guiding principles of host microbe interactions from the microbial as well as host standpoint, and how the host responds to pathogenic microorganisms and/or find novel strategies that may be used therapeutically to prevent the spread of infectious diseases or otherwise contribute to the improvement of human health.
The academic degree is awarded by Universidade NOVA de Lisboa or Universidade de Lisboa.
Contact for more information: interface@itqb.unl.pt
PROGRAM DIRECTOR
Adriano O. Henriques, ITQB NOVA
PROGRAM VICE DIRECTORS
Maria Mota, IMM
Miguel Soares, IGC
DIRECTIVE BOARD
Adriano O. Henriques, ITQB NOVA
Maria Mota, IMM
Miguel Soares, IGC
Élio Sucena, IGC
Isabel Gordo, IGC
Karina Xavier, IGC
Inês Cardoso Pereira, ITQB NOVA
Luísa Figueiredo, iMM
Luís Graça, iMM
Mariana Pinho, ITQB NOVA
EXECUTIVE COMMITTEE
Adriano O. Henriques, ITQB NOVA
Ana Espada Sousa, iMM
Miguel Prudêncio, iMM
Filipa Nunes, iMM
Catarina Pimentel, ITQB NOVA
Mónica Serrano, ITQB NOVA
Ana Maria Portocarrero, ITQB NOVA
Luís Teixeira, IGC
Ana Aranda Silva, IGC
PARTICIPATING INSTITUTIONS
| | |
| --- | --- |
| | The ITQB NOVA is an academic research and advanced teaching center. Its mission is to carry out multidisciplinary research, graduate and postgraduate teaching in chemistry, life sciences, and associated technologies, while performing university extension activities for the promotion of science and technology. |
| | The IGC is a multidisciplinary life science research and graduate training institute, focusing on host-microbe interactions and immunology, evolution and developmental biology, biology of cell division, as well as theoretical and computational approaches modeling complex biological processes. |
| | The iMM is a leading biomedical research Institution that fosters basic, clinical and translational research and innovation with the aim of contributing to a better understanding of disease mechanisms, developing novel predictive and diagnostics tests as well as new therapeutic approaches, taking advantage of its location within the FMUL/HSM campus. |
| | |
| | The INTERFACE PhD Program is funded by Fundação para a Ciência e Tecnologia (PD/00084/2013) |