Admission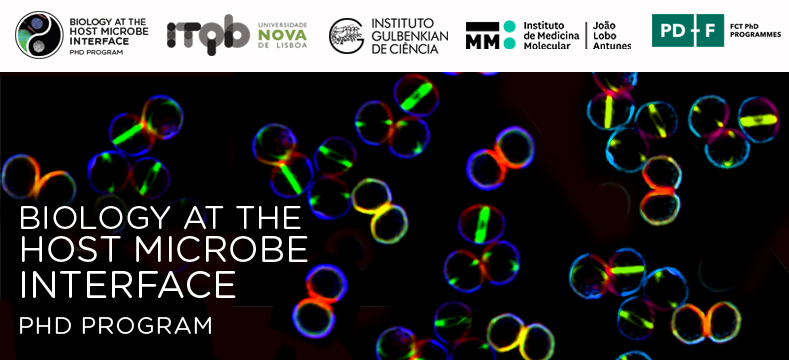 The call for applications to the 2019 edition of the PhD Program Molecular Biosciences - Biology at the Host Microbe Interface will be open between August 10, 2018, and October 15, 2018, at 16h00 Lisbon time. The program will start on February 1, 2019.
To apply follow the instructions in the online application form.
Scholarships will be awarded up to nine outstanding PhD candidates. Additional places are available for students with other sources of funding. Selected students are expected to share as a common endeavor the willingness to engage into multidisciplinary research on the biology of host-microbe interactions.
Candidates must be proficient in the use of the English language.
ADMISSION CRITERIA
Admission of candidates is competitive and based on the educational background, academic qualification, research experience and motivation.
Educational background: Candidates with a background in in Life, Physical, or Exact Sciences, including Medical Doctors, are encouraged to apply to this PhD Program.
Non Portuguese academic degrees can only be considered upon recognition by Direção-Geral do Ensino Superior or by a Portuguese Higher Education Institution, according to the applicable legislation (Decreto-Lei n.º 341/2007, de 12 de outubro, and Decreto-Lei n.º 283/83, de 21 de junho). This recognition must be obtained by the application deadline.
Academic qualification: Candidates must have a strong academic record and meet the minimum following requirements:
Holding a Masters degree or legal equivalent, or a Bachelor's degree with a total number of academic credits equal or above 240 (pre-Bologna degrees). This degree must be obtained by the application deadline;
Exceptionally, an applicant from the above countries with only a Bachelor degree with an excellent academic or research record may be considered at the discretion of the Directive Board of the PhD program. Students must require this exception by sending an email to interface@itqb.unl.pt, justifying the request and attaching their CV;
Applicants should comply with the FCT regulations, namely:
a) Be Portuguese citizens, or citizens of other European Union member states;
b) Be third-­country nationals holders of valid residence permits or who have acquired long‐term resident status, pursuant to Law no. 23/2007, of 4 July and amended by Law no. 29/2012 of 9 August;
c) Be nationals of third‐countries with which Portugal has signed reciprocity agreements;
d) Be nationals of third‐countries when, in the respective call for funding, an individual interview-­based selection method is foreseen.
Note: Admission is conditional to the presentation of the following documents:
Curriculum vitae (CV), including University degrees with corresponding grades, other courses attended, research experience, and publications (if any);
Motivation letter. This personal statement should include scientific interests, career goals, and motivation to apply to the PhD programme;
Contact details of two referees;
Diplomas/Certificates of academic qualifications;
Transcript/Record of study (a detailed documentation of the academic record).
SELECTION CRITERIA
Selection of candidates follows a two-step procedure:
Step I - Written application (50%)
Applicants will register online and will provide generic personal information, academic and scientific background, professional experience, and the contact details of two referees. The referees will be contacted automatically to obtain letters of recommendation.
Applications will be reviewed by the Admission Committee and ranked based on the curriculum vitae, a personal statement and recommendation letters. The evaluation of the CV will take into account the degree classification, the publication record (if any) and research experience. The personal statement will allow assessment of the applicant´s interest in science, maturity, her/his general knowledge of biology, and motivation to apply to the programme.
Based on the ranking up up to 40 candidates will be invited for step II. The results will be communicated by e-mail on 9 November 2018.
Step II - Presentation (25%) and interview (25%)
This step is conducted by the Program Direction and the Admission Committee. This step evaluates the applicant's ability to formulate and discuss scientific questions, to think critically, her/his interest/commitment to research, research interests, maturity, career goals (what are the post PhD plans and how will the program help), and communication skills. Candidates should be aware of the main goals of the program. Willingness to engage in novel collaborative research at the microbe-host interface bridging complimentary characteristics of the different groups involved in the Program will be valued.
Interviews will take place between November 26 and November 30 2018.
Candidates will make a 10 minutes oral presentation in English, with a personal and scientific component, focusing on their own research experience or on a paper or science topic that motivates them. Presentations will be followed by an interview. In the case of residents abroad, presentations and interviews can be organized by video conference.
Each member of the Admission Committee will individually rank the candidates. Next, the AC will produce a final ranking. Candidates will be divided between below acceptance level or above it. Both will be immediately notified. The top candidates above the acceptance level will be invited to join the program, and will have three weeks to confirm their acceptance.
The final results will be released by e-mail on December 14 2018. Selected applicants must confirm their acceptance.
Tuition Fees
Tuition fees are 2750 €/year. Students with a Interface or FCT PhD fellowship have their tuition fees covered.
CALL ANNOUNCEMENT [EN] / EDITAL [PT]