Earth Overshoot Day 2021
On 29 July we start to consume beyond our planet's resource budget for 2021. Earth Overshoot Day shows the necessity of a global response that encompasses the best of cooperation between government bodies and science. The GREEN-IT Research Unit is committed to assist in the search for the best answers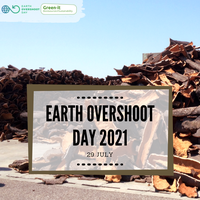 Today, 29 July, we have started to consume beyond our planet's resource budget for 2021. Earth Overshoot Day represents the day by which we enter environmental deficit spending, having used up the planet's regenerative budget for that year. After momentarily sliding the date to August in 2020, mainly due to the pandemic-induced lockdowns, the date has once again slithered back to July for this year.
Humanity constantly pushes the limits of our one planet in a blind search for more resources to appease itself, so much that the demand now exceeds planetary biological regeneration capacity. It is not just that we are bad at budgeting our resources, but that we are also carving a massive debt that will undoubtedly have to be paid off. And the collector is coming. Just on the past month we have seen devastating floods, heat waves and fires. All of this pilling on the increasingly reduced availability of natural resources, the loss of biodiversity, soil degradation and pollution.
It is clear that we need fundamental changes on the way that we as a society produce and consume resources. We have seen with the COVID-19 pandemic the importance of synergy between government bodies and science. As the window for action quickly narrows, it is time to join forces once again and push the date of the collector. It is necessary that global research and policy agendas align in order to find solutions that are able to fulfill our societal needs while transforming our systems of consumption and production, to assure that we live within our planetary boundaries.
At th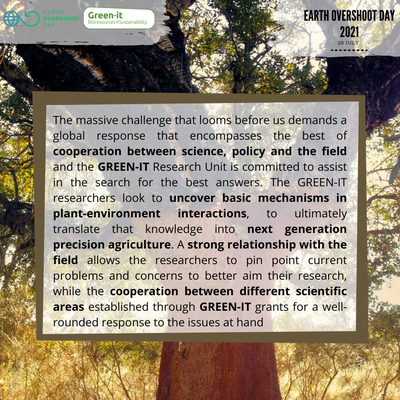 e GREEN-IT Research Unit, we look to make a difference and contribute for a more sustainable future, based on better knowledge and use of improved plants. With a fast-growing population, the problem of ensuring food security and adequate resources is one that concerns the GREEN-IT researchers, and so they focus on uncovering basic mechanisms in plant-environment interactions, to ultimately translate that knowledge into next generation precision agriculture. The tight relationship with producers, farmers, managers and municipalities allows the researchers to pin point current problems and concerns to better aim their research. In parallel, the cooperation between agronomists, biologists, biochemists and chemical engineers established at GREEN-IT grants for a well-rounded response to the issues at hand. The massive challenge that looms before us demands a global response that encompasses the best of cooperation between science, policy and the field and GREEN-IT is committed to assist in the search for the best answers.
Earth Overshoot Day is calculated by the Global Footprint Network by dividing the world biocapacity, by the world ecological footprint and multiplying by 365. Biocapacity represents the biologically productive land and sea area, including forest lands, grazing lands, cropland, fishing ground, and built-up land. The ecological footprint measures a population's demand for plant-based food and fiber products, livestock and fish products, timber and other forest product, space for urban infrastructure, and forest to absorb its carbon dioxide emissions from fossil fuels.