International Day for Biological Diversity 2021
The loss of biodiversity is not only an environmental issue, but also a developmental, economic, security and social issue as well. On the International Day for Biological Biodiversity ITQB NOVA Plant X Lab and INIAV researcher Benvindo Maçãs explain their work and how they look to support biodiversity.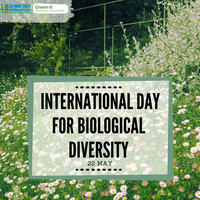 Biodiversity – the complex tapestry of life that coats our planet. Encompassing all living things woven in a never-ending number of ties, biodiversity makes up the base structure of our world. At first glance, it could be easy to overlook just how much we rely on biodiversity, but in reality it supports most of our human and societal needs, from food, energy and medicine to fresh water and nutrition security, among many others. Lest we forget, biodiversity also supports economic opportunities and leisure activities, all contributing to our overall wellbeing. Millions of distinct species, all with unique traits, work together to survive and maintain their ecosystems, and ultimately they uphold our society.
However, some of these threads are wearing thin, as we have seen a deterioration of biodiversity in the last decades. The IPBES Global Assessment Report on Biodiversity and Ecosystem Services (2019) indicates that around 1 million animal and plant species are now threatened with extinction. Spearheading this decline is climate change, invasive species, over-exploitation of natural resources, pollution and urbanization. The IPBES report shows that ¾ of land-based environment has been significantly altered by human actions, and that more than ⅓ of the world's land surface and nearly 75% of freshwater resources are now devoted to crop and livestock production.
The loss of biodiversity is not only an environmental issue, but also a developmental, economic, security and social issue as well. The report clearly indicates that global goals for conserving and sustainably using nature cannot be met if we keep on the current track, and to achieve the goals set for 2030 and beyond we need to carry out transformative changes across economic, social, political and technological factors. When it comes to making a difference, science might not be the ultimate singular answer that will solve all our problems, but it is a part of the rescue team and with a major role to play. In the GREEN-IT research unit, we look to support biodiversity and help to achieve these global goals.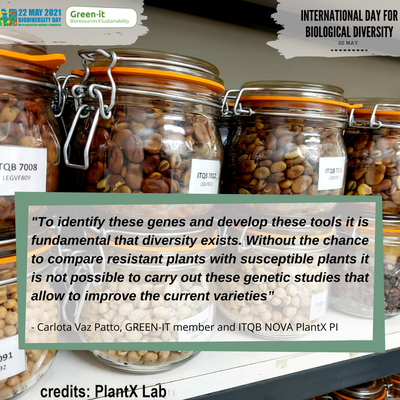 At ITQB NOVA, the PlantX lab is dedicated to identifying the genes that regulate characteristics of agronomical interest in plants, developing molecular tools to improve the breeding of legume varieties resistant to diseases or water stress and more nutritious. "To identify these genes and develop these tools it is fundamental that diversity exists. Without the chance to compare resistant plants with susceptible plants it is not possible to carry out these genetic studies that allow to improve the current varieties" explains Carlota Vaz Patto, Principal Investigator of PlantX lab.
PlantX preserves, in cold storage, a big collection of seeds (ex-situ conservation), resulting from donations of various germplasm banks from all over the world and from several years of collecting expeditions from farmers' fields in Portugal. They use them to create the scientific knowledge necessary to face the many current challenges that threaten biodiversity (such as the appearance of new diseases, or the increase in frequency of extreme weather events, like drought or flooding). On another hand, through the participative research that PlantX develops with farmers, they promote the maintenance of production (in-situ conservation) of traditional varieties that are in danger of disappearing, but which bear the fundamental diversity for our future survi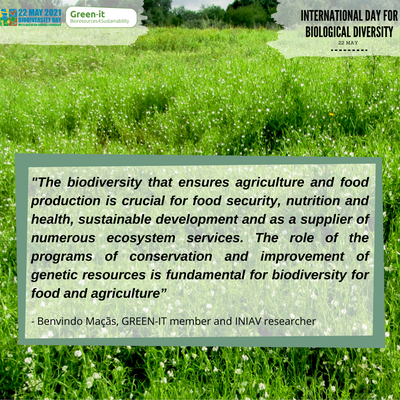 val.
From INIAV, researcher Benvindo Maçãs and his team carry out research programs that look to protect, conserve and sustainably use plant genetic resources, in order to make the crop systems more diverse, through crop rotation, and more resilient, by using varieties with a broad genetic base and with specific adaptation to the Mediterranean environment. "The biodiversity that ensures agriculture and food production is crucial for food security, nutrition and health, sustainable development and as a supplier of numerous ecosystem services" says Benvindo Maçãs. "The role of the programs of conservation and improvement of genetic resources is fundamental for biodiversity for food and agriculture". These programs ensure the controlled evolution of the genetic resources to guarantee the selection of plant varieties adapted to the new scenarios imposed by climate change. On the other hand, the transition to more sustainable agricultural systems requires conducting research programs of a local nature, in order to add scientific knowledge to ecologically based local knowledge, for which the contribution of biodiversity is fundamental.
May 22 was proclaimed as the International Day for Biological Diversity by the United Nations to increase understanding and awareness of biodiversity issues. The 2021 slogan "We're part of the solution" was chosen as a continuation of the momentum generated last year under the over-arching theme, "Our solutions are in nature", which served as a reminder that biodiversity remains the answer to several sustainable development challenges.