Plant health and the fight against chestnut blight
GREEN-IT member Helena Bragança talks about her research on chestnut blight and the importance of planth health on Público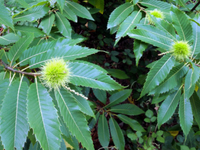 The European Chestnut is a fairly common sight on the Portuguese landscape, especially on the north and central Portugal. Unfortunately, this species has been plagued with several diseases including the chestnut blight, a disease caused by the fungus Cryphonectria parasitica. Helena Bragança, a researcher from Instituto Nacional de Investigação Agrária e Veterinátia (INIAV) and GREEN-IT member, talks about her research focused on understanding and fighting this disease and the importance of plant health on Público.
The chestnut blight disease has already been detected in all major chestnut areas of Portugal, being responsible for a significant loss of trees. Several efforts are being made to combat this disease, such as the mapping of the genetic diversity of the fungus, as well as its reproduction method, allowing to pick the areas in good conditions for biocontrol, as explained by Helena Bragança.
As the researcher points out, new phytopathogenic agents will continue to emerge and only with good management and knowledge on how these diseases act can we mitigate their impact. "Plant diseases are a threat to human survival itself" says Helena.
In Portugal, there are several entities and laboratories focused on protecting and improving plant health. 2020 was declared the International Year of Plant Health by the Food and Agriculture Organization of the United Nations (FAO).
Read the full article here.

Credits to Público