The GREEN-IT continuum
What makes a Research Unit? On the National Day of Scientific Culture, we shine a light on all that embodies GREEN-IT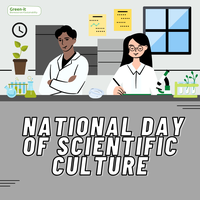 It started with a will. The will to comprehend, to contribute, and to build. Years after the first push of the submission button, GREEN-IT stands now as a well-developed Research Unit that gathers a booming assortment of scientists under the common goal of contributing towards more sustainable use of plant resources.
Upon the impending consequences of climate change, GREEN-IT researchers fight for food security and sustainable agricultural practices. But how to start this feat? By fundamental research. Comprehending how plants grow and interact with their environment and how both development and interactions react to stress conditions is critical in facing these current threats.
It is also vital that science travels beyond the walls of labs. Throughout the years, GREEN-IT researchers have cultivated tight relationships with farmers, managers, and producers, allowing for a better understanding of problems and concerns and a more accurate application of their know-how. From breeding programs to phenotyping platforms. The contributions towards sustainable agricultural practices have been substantial.
However, GREEN-IT is just not about creating knowledge. It is also about education and inspiration. It is about making a better scientific community, that is full of curiosity and questions, as well as kindness and integrity. PhD programs, Master courses, workshops. Through its educational programs, GREEN-IT looks to not only pass on the very best of its scientific expertise, but also to kindle relationships, incite critical thinking, and advocate open-mindedness. Likewise, with the assort of outreach activities and initiatives. GREEN-IT researchers make sure to scatter the spark of plant science.
It started with a will and it continues with the people. For they are the ones who make it all happen. Technicians, students, principal investigators. Either still within our walls or already conquering other places, GREEN-IT members are a valuable gear in the apparatus of scientific culture.
National Day of Scientific Culture was established in 1996, by then Ministry of Science José Mariano Gago, in homage to science communicator and researcher Rómulo de Carvalho. 2021 marks the 25th edition of this date.