Thematic Lines
Research within MOSTMICRO-ITQB is aligned with three thematic research lines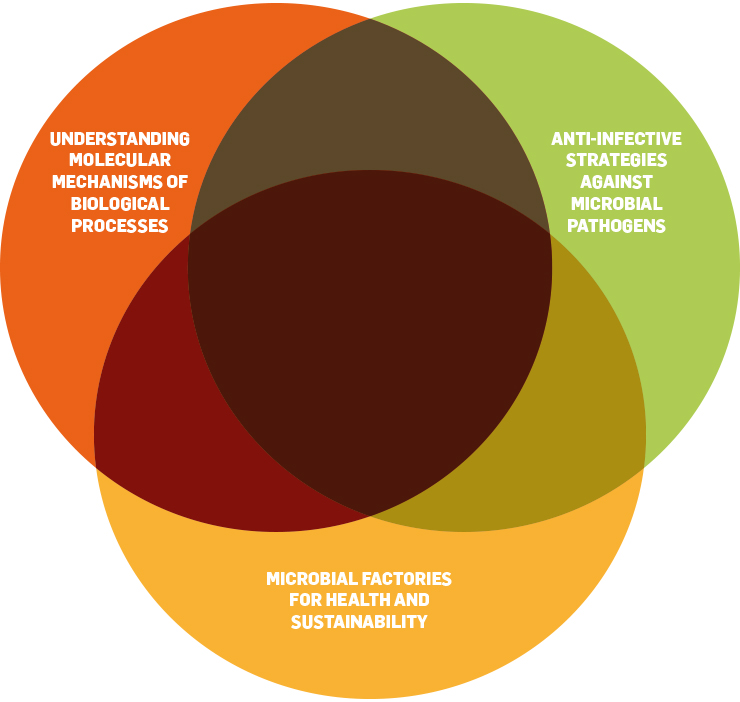 TL1-Molecular Mechanisms of Biological Processes
Coordinator: Pedro Matias
Goal: to understand the fundamental processes of microorganisms, from a molecular perspective.
TL1 consists of fundamental studies aimed at understanding the biological processes of microorganisms from a molecular perspective. Biochemical pathways will be studied at the molecular level, in archaea, bacteria and eukaryotic microbes. These studies will involve model organisms that are relevant to human health, as well as to the development of novel sustainable production processes based on the rational manipulation of the metabolism of these microbes.
All MOSTMICRO Groups will contribute to TL1, building on ITQB NOVA´s long-standing expertise in Molecular Biosciences, allowing a better understanding of biological molecules and biological processes from the atomic to the cellular levels. TL1 will provide a molecular framework for the activities of TL2 and TL3.
TL2-Anti-Infective Strategies against Microbial Pathogens
Coordinator: Adriano O. Henriques
Goal: to study important microbial pathogens and model organisms, ranging from Single Molecule to population-level studies, with the ultimate goal of fighting infectious diseases.
TL2 aims to contribute to the development of new anti-infective strategies. Studies ranging from the single molecule to population-level will be carried out in important microbial pathogens using genetics, genomics, molecular, chemical and cell biology.
Groups contributing to TL2 will expand our knowledge of bacterial cell biology and the molecular mechanisms of pathogenesis by inspecting (i) the structural organisation of the cell in space and time, (ii) the in vivo dynamics of proteins and other macromolecules, and their assemblies, (iii) the mechanisms of known or prospective antimicrobial compounds. Studies on the dynamics of cellular organisation will be integrated with investigations of the regulatory and protein-protein interaction networks that govern processes such as growth, determination and maintenance of cell shape, cell division and differentiation, and tolerance to, or resistance to, antibiotics.
TL3-Microbial Factories for Health and Sustainability
Coordinator: Inês Cardoso Pereira
Goal: to explore the genetic and metabolic potential of microbes and their enzymatic machinery for the production of value-added molecules and processes.
TL3 will explore the genetic and metabolic potential of microbes and their enzymatic machineries as "factories" for the development of new processes and the production of added-value molecules, addressing societal needs relating to Health and Sustainability. Microorganisms have evolved to contain naturally optimised molecules, enzymes and pathways, which constitute a huge natural resource that can be exploited to obtain new processes and products.