Claudina Rodrigues-Pousada receives award
Annual Seeds of Science cerimony takes place tomorrow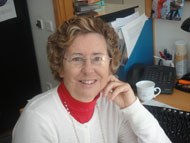 Oeiras, 21.05.10
Claudina Rodrigues Pousada, head of the Genomics and Stress Laboratory, is once again recognized by her contribution to science in Portugal. Tomorrow, during the Annual Gala da Ciência at Figueira da Foz, she will receive the Seeds of Science Consagração award.
Promoted by the online science journal "Ciência Hoje", the seeds of science awards distinguish important personal contributions to scientific research and science communication in Portugal. Twelve personalities will be distinguished during this year's award ceremony.
In 2009, Cecíla Arraiano received the Seeds of Science Award for the Life Sciences.