Fascination of Plants Day 2021
An online workshop, a webinar about plants, a virtual exhibition, and a walk are some of the activities to celebrate the fascinating world of plants, from Oeiras to the globe.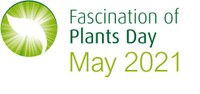 On 18 May 2021, the International Fascination of Plants Day takes place online! This year, ITQB NOVA joined forces with CIB, ANSEME, iBET, GREEN-IT & InnovPlantProtect, to organize a full day of activities, where there will be something for everyone. Put 18 May on your agenda and come with us to the Fascinating world of plants.
If you like to draw, don't miss the Scientific Illustration Workshop - Rabiscos em casa will take place from 2 PM to 3 PM (Lisbon time - GMT+1). The workshop will be a dedicated class in which anyone can learn to draw the plants they have nearby. Live to your home or backyard, scientific illustrator Luísa Cristótomo will share the tools necessary to know how to observe and transmit to paper the fascinating details of the plants that surround us. This activity is organized by ITQB NOVA and GREEN-IT, with the support of the Municipality of Oeiras.

Registration is free but places are limited!
Does the food we eat actually come from nature? This will be the question explored in a debate, moderated by journalist Luís Ribeiro, which will include representatives from different areas, in a multidisciplinary panel composed by nutrition specialist Conceição Calhau, producer Gabriela Cruz, researcher Pedro Fevereiro and gastronomy professional José Maria Moreira. This activity is organized by ITQB NOVA, CIB, IBET, GREEN-IT, InnovPlantProtect and ANSEME.

Join the live event, starting at 6 PM (Lisbon time - GMT+1).
May 18 will also be the day of the grand opening of the PlantLabSketching virtual exhibition! "PlantLab Sketching" is an Art & Science itinerant exhibition of drawings produced in the context of an urban sketching activity organized in the Open Day 2017 of ITQB NOVA. It will now be available to everyone all over the world, with a 3D virtual tour, which will premiere on the Fascination of Plants Day. The original exhibition was organized by ITQB NOVA, CiB - Centro de Informação de Biotecnologia and the Foto & Sketchers 2 group. More soon.
On this day it will even be possible to take a guided tour of the plant life in Estação Agronómica Nacional, in a face-to-face activity guided by ITQB NOVA and GREEN- IT researcher Ana Fortunato, for a limited number of people and according to all the safety rules. Register to join Ana on this tour. There is a very limited number of places available.
Finally, the children at the "Grãos de Gente – Associação de Desenvolvimento Infantil" are already having fun with scientific protocols shared by ITQB NOVA/iBET/GREEN-IT researchers. Over the course of some weeks, the children of four different classes will learn how rice and bean germinate and register how this growth is affected by different conditions, like real scientists. By 18 may they will have shared pictures, drawings, and other records of these fascinating experiments with plants we know so well from our day-to-day lives, so stay around for more.

These events are organized with the support of the Municipality of Oeiras and are also a pre-event of the European Researchers Night - Reggae.