World Science Day for Peace and Development 2021
World Science Day for Peace and Development celebrates the significant role of science in society. Focused on studying and improving plants, the GREEN-IT Research Unit uses a farm-to-lab-to-farm approach to find solutions or alternatives that are both sustainable and able to respond to societal needs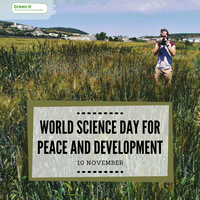 As climate change rages on, science searches for ways to sustain the ever-growing population while protecting the environment from further damages. Focused on studying and improving plants, the GREEN-IT Research Unit uses a farm-to-lab-to-farm approach to find solutions or alternatives that are both sustainable and able to respond to the global necessities. Through a tight relationship with producers, farmers, managers and municipalities, the researchers are able to pin-point current problems and concerns and accurately translate knowledge into application.
Looking to uncover the genetic and molecular landscape of traits of resistance and resilience as well as the mechanisms behind the interactions that embody the ecosystems and their reaction to stress conditions, GREEN-IT researchers search for a well-rounded view of how climate change affects plants. This know-how is the starting point for the development of biotechnological tools that allow not only a more sustainable agriculture, but also one that acknowledges all needs.
GREEN-IT researchers have made substantial contributions towards biotech tools linked to the management of beneficial microorganisms as wells as to breeding programs, contributing to the improvement of crop development and production, while enhancing nutrient use efficiency, on a sustainable basis. Furthermore, GREEN-IT researchers are also working towards the development of a phenotyping platform that can be applied to monitor diseases, assess plant growth or genotypic variability, allowing for production forecasts, as well as characterization of environmental impacts or soil handling.
Proclaimed by the United Nations Educational, Scientific and Cultural Organization (UNESCO), World Science Day for Peace and Development is celebrated November 10th, in an effort to highlight the role of science in society. The theme of the year 2021 is "Building Climate-Ready Communities", aiming to emphasize some key scientific aspects and possible solutions to some of the major global societal challenges