Universidade Nova de Lisboa - UNL - ITQB NOVA 
Portugal 
---
General Email: 
---
Pedro Matias (Coordinator), Célia Romão (Co-Coordinator), Ana Luísa Gomes (Project Manager) 
Team Members: Carlos Frazão, Colin McVey, Elin Moe, João Vicente, José Brito, Margarida Archer,
Margarida Trindade, Maria Arménia Carrondo, Renata Ramalho, Sara Silva.
André Gouveia, Andreia Fernandes, Bruno Salgueiro, Dalila Fernandes, Diogo Athayde,
Federico Issoglio, Filipe Rollo, José Rodrigues, Paulo Santo. 

The Macromolecular Crystallography Unit at ITQB is a top research unit in the field of structural biology using X-ray crystallography, and is composed of five different groups. Our research targets are macromolecules and complexes with impact in medicine and/or in industry, with the aim to understand at structural level the detailed molecular mechanism by which these macromolecules carry out their functions.
---
The UNL Organic Unit - ITQB NOVA's mission is to carry out scientific research and postgraduate teaching in chemistry, life sciences, and associated technologies, while serving the community and promoting science and technology. Hence the long-term strategy is to place UNL as a top performer in basic research in Molecular Biosciences. This research excellence and multidisciplinary knowledge will provide the foundations for discoveries that will translate knowledge in life sciences into associated technologies.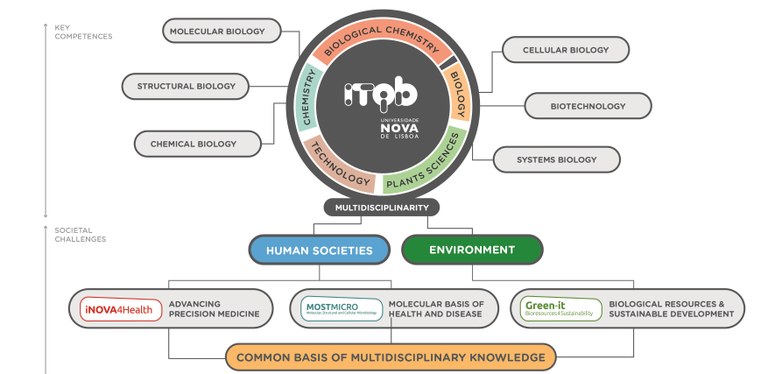 The UNL Organic Unit - ITQB NOVA is an international reference in Molecular Biosciences, and Structural Biology has been one of its major research areas since its foundation as CTQB in 1989. The short-term strategy of UNL is organized into three research units, namely Molecular Basis of Health and Disease – MOSTMICRO; Biological Resources and Sustainable Development – GREEN-IT and Advancing Precision Medicine – iNOVA4Health. The UNL Organic Unit - ITQB NOVA is currently the coordinator for the Portuguese Affiliated Centre of INSTRUCT-ERIC, PCISBIO consortium.