IMpaCT Cryo-EM Seminar with Helen Saibil
On October 21st 2020, IMpaCT had the great pleasure of welcoming Helen Saibil as our expert guest speaker in the IMpaCT Cryo-EM seminar series.
Due to the COVID-19 pandemic, Helen Saibil's visit was organised as virtual meetings and webinar. However, that has not impaired the great interaction between Prof. Saibil and the IMpaCT team members.
Several virtual meetings with the IMpaCT coordination and selected team members were organised, during which the IMpaCT team had the opportunity to present the project mission and main activities, and the Cryo-EM network that is being established in Portugal. As well, selected PhD students and Post-docs had the opportunity to discuss their ongoing projects with Prof. Saibil. 
Prof. Saibil has shared valuable inputs and advices from her vast experience and expertise in Cryo-EM Microscopy with all our team members.
We would like to thank Helen Saibil once again for her availability to spend the day with us, and for the great lecture and discussions.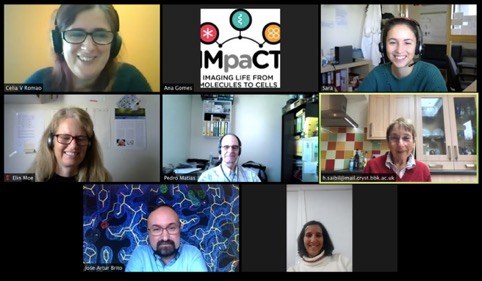 Meeting with the IMpaCT Coordinators and Task Leaders for a brief presentation of the project and mission. 
Helen Saibil, Célia Romão (Project Co-coordinator), Ana Gomes (Project Manager), Sara Silva (Post-doc), Elin Moe (Senior Researcher), Pedro Matias (Project Coordinator), José Brito (Senior Post-doc), Margarida Archer (PI)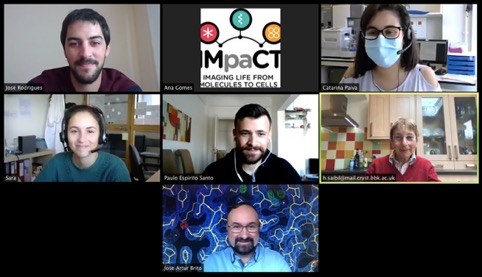 Meeting with MX Unit's PhD students and Post-docs.
Helen Saibil, José Rodrigues (PhD Student), Ana Gomes (Project Manager), Catarina Paiva (PhD Student), Sara Silva (Post-Doc), Paulo Espirito Santo (PhD Student), José Brito (Senior Post-doc)

IMpaCT Cryo-EM Webinar.
As well, IMpaCT project would like to acknowledge the ITQB NOVA Science Communication and Image Office for all the support given during the organisation of our webinar.