New PhD project dedicated to the study of SARS-CoV-2 virulence factors
The IMpaCT coordinator, Dr. Célia Romão, and the Team Member, Dr. Elin Moe, are the supervisors of a PhD Student, Bruno Salgueiro, that recently was awarded this position in the scope of the FCT PhD4COVID program. 
The project aims to unveil the molecular mechanisms of the interaction between the virulence factors from SARS-CoV-2 and the host innate immune system.
Bruno will develop his PhD work at the ITQB NOVA MX-Unit and will benefit from the IMpaCT's network to take this project to the next level.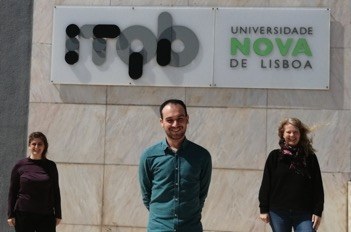 From left to right, Dr. Célia Romão, Bruno Salgueiro, and Dr. Elin Moe.